GREFA: Environmental and Wild Life Protection Centre
Topic:
10: Environment protection
Work Types:
Environment / Restoration, renovation / Work with animals
Number of Places still available for Males:
3
Number of Places still available for Females:
1
Number of Places still available - last updated:
16 Jul 2018
International age:
18 - 99
Extra fee to be paid in the hosting country:
0.00
Required Language:
English
Spoken Language:
English, Spanish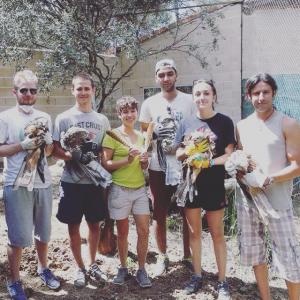 Description: GREFA is an NGO created in 1981 for the study and conservation of nature. They develop different and complementary activities: animal recovery, research; preservation of species, community education and awareness raising campaigns. The Wild Fauna Recovery Centre is the main focus of the organization. Since its beginnings, it has given veterinary assistance to more than 40,000 wild animals, hosting every year around 4000 animals. The Wild Fauna Recovery Centre provides the necessary care to all animals admitted to later release them back into nature. It also organises trainings and environmental education activities for all ages
Type of Work: Construction of nest boxes for kestrels and owls within the project of biological control of the peasant topillo. Placement of the nests in the town of Pozoantiguo, a town near Villalar de los Comuneros Works in the preparation of the Interpretation Center of the nature of Villalar de los Comuneros. Preparation work for the environmental and cultural path in Villalar de los Comuneros.
Study Theme: Environmental and wild life protection
Accommodation: At the centre in one lodge for men and women (mixed room), furnished with bunk beds. There are one shower for each gender. There´s a kitchen where volunteers will cook for themselves. The ingredients will be given to them.
Language: A slight level of spanish is desirable
Requirements: Motivation Letter is required to apply
Approximate Location: Villalar (Valladolid)