Heritage Soci Camp - Cheng HO Festival
This project is part of the SCI North South Programmes. Volunteers should be 20 years old, have previous volunteering experience and take part in the Preparation Workshops organised by their sending branch. More details from your sending branch.

Topic:
12: Art, culture and local history
Work Types:
Festival / Cultural heritage
Number of Places still available for Males:
4
Number of Places still available for Females:
4
Number of Places still available - last updated:
10 May 2019
International age:
18 - 99
Extra fee to be paid in the hosting country:
0.00
Required Language:
English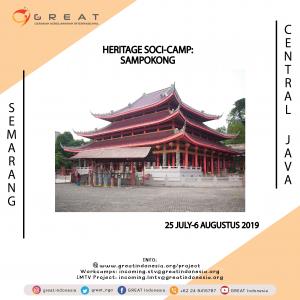 Description: Sampokong also known as Gedung Batu Temple, is the oldest Chinese temple in Semarang, Central Java, Indonesia. Originally established by the Chinese Muslim explorer Zheng He (also known as Sanbao) _ later is called as Cheng Ho. The temple is now shared by Indonesians of multiple religious and ethinisties including Muslims and Buddhists, Chinese and Javanese. A full-scale restoration held in January 2002 by the Sam Poo Kong Foundation to prevent flood and other problems may occur. Restoration completed in August 2005, along with the 600 years Admiral Zheng He (Cheng Ho)'s arrival in Semarang celebration. More about Sampokong temple here Sam Po Kong Temple recently has developed their heritage conservation program that is also aimed to be educative and enjoyable for locals and visitors.
Type of Work: • Volunteers will learn about history of Sampokong temple and the legendary Cheng Ho from the founders of the temple. • Volunteer will participate in the manual preparation of festival to make the offerings and other materials with local community • Volunteer will participate in the festival as supports for the carnival groups • Volunteers who are interested in participating the practice of local dances and to perform dances are more than welcome to join this festival.
Study Theme: Heritage, Education, Social
Accommodation: House of local people. Volunteers will share together sleeping space separately between females and males. No bed. Need sleeping bag. Sharing bathroom. Self cooking by the volunteers. Volunteers will make common rules, daily cooking team, cleaning team and washing team and any additional needs together for their collective living group.
Language: English with other volunteers. Bahasa Indonesia and Javanese language with locals.
Requirements: • Strong motivation and with social skill living with local host families. • Interested in heritage issues especially traditional culture, mix culture, arts, dances. • Agree to update the actiivities in their personal social media to promote peace and diversity.
Approximate Location: Semarang, urban area. https://goo.gl/maps/UhjR3G7epLv
Notes: Weather can be up to 40 degree Celsius with 80% humidity. Less hygiene condition.