This project is part of the SCI North South Programmes. Volunteers should be 20 years old, have previous volunteering experience and take part in the Preparation Workshops organised by their sending branch. More details from your sending branch.

Topic:
7: Children and youth
Work Types:
Work with children / Social
Number of places still available:
8
Number of Places still available - last updated:
25 Mar 2019
International age:
20 - 99
Extra fee to be paid in the hosting country:
3200.00 Mexican Peso [112 UK Pound Sterling]
Breakdown:
Accommodation and food: 0.00 Mexican Peso
Transportation: 0.00 Mexican Peso
Activities: 0.00 Mexican Peso
Hosting organisation support: 3200 Mexican Peso
Purpose of extra costs:
Nataté does not receive any funding from other institutions, each volunteer is required to cover a participation fee of $ 3,200 Mexican pesos. The fee covers the expenses of; Accommodation, food, material (established within the budget) and advice during all volunteering. The fee should be paid IN CASH by volunteers upon arriving at Nataté´s office (where the initial meeting place will be).
Required Language:
Spanish
Spoken Language:
English, Spanish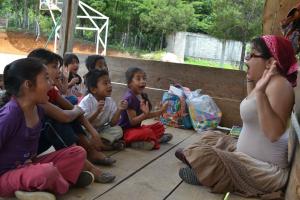 Description: Like every year, Nataté International Volunteering calls everyone interested to participate in our summer camp aimed at children from a Tzotzil - Tzeltal community, which takes place within the center "Kuxul Lum" (a phrase that in the indigenous language Tseltal means living land), a self-sustaining community project of bio construction and permaculture development, which Nataté works throughout the year. Summer Camp offers a social twist to establish an educational and recreational dynamic, as most of the children do not have access to formal education, because in many cases they help their families with small commercial or domestic activities. The main objective of this camp is to give these children a chance to learn and have fun in a multicultural environment.
Type of Work: Throughout the two weeks they can be involved in inviting the children to participate in the camp, making it more attractive for them and parents to attend. According to the number and ages of the participants, groups can be organized to better facilitate activities. Some of them may be related to the theme of the camp with artistic activities (workshops to make masks, painting, macramé, music); recycling; games (in teams, recreation, brain teasers); skills (construction, coordination), as well as teaching other languages (words, songs, games). The final program of activities will be defined by the volunteer group prior to the start of the camp. Project coordinators together with the volunteers, will create a structure for your daily project.
Accommodation: Volunteers will stay in a space destined by the center Kuxul Lum. They will have access to all the basic services, including hot water. There is no Internet service but you can bring personal electronic devices. In some nearby places there is cell phone service, cash machines and supermarkets. Each volunteer will participate in cleaning in cleaning common areas. The project includes three standard quantity meals per day (300 grams per portion), any additional food must be paid for by the volunteer. Any dietary restrictions should be informed before the start of the camp.
Language: A medium level of Spanish is necessary. Volunteers who so request it, we encourage volunteers who require intensive language classes to improve their Spanish, or any other international or indigenous Maya language, to matriculate in the language and culture institute La Casa en el Árbol. For more information, please visit: www.lacasaenelarbol.org.mx
Approximate Location: The camp takes place in the community of San José Ocotal in the city of Teopisca, 40 minutes from the city of San Cristóbal de Las Casas, Chiapas, with an altitude of 1,780 meters above sea level. In Teopisca you can find supermarkets, pharmacies, health clinics, restaurants as well as tourist attractions. Within the community of San José Ocotal, there is a presence of indigenous Tzotzil and Tzeltal peoples, and we ask much respect for their customs.
Organization Description: Natate International Volunteering is a nonprofit NGO without any political or religious affiliation, headquartered in San Cristóbal de Las Casas, Chiapas and founded in 2006. Nataté means "The Tree House" in the Maya indigenous languages of Tzeltal and Tzotzil, which are the most widely spoken in the highlands of Chiapas. Nataté collaborates with local, national and international partners to address the needs of the communities and groups with which it collaborates. Our mission is to contribute to society through national and international volunteer service, which supports local activities related to sustainable development, intercultural promotion, environmental awareness, international solidarity, preservation of cultural and natural heritage, support for marginalized groups and vulnerable minorities, alternative education for youth and the general public. Nataté seeks to strengthen local economic and social initiatives through the activities carried out by the volunteers who participate in the workcamps and medium to long-term volunteer service. The workcamps are about two or four weeks long, the medium to long-term volunteer service requires a minimum stay of a month up to a year.