This project is part of the SCI North South Programmes. Volunteers should be 20 years old, have previous volunteering experience and take part in the Preparation Workshops organised by their sending branch. More details from your sending branch.

Topic:
7: Children and youth
Work Types:
Agriculture / Work with children
Number of places still available:
6
Number of Places still available - last updated:
25 Mar 2019
International age:
20 - 99
Extra fee to be paid in the hosting country:
4500.00 Mexican Peso
Purpose of extra costs:
Nataté does not receive any funding from other institutions, each volunteer is required to cover a participation fee of $ 4,500 Mexican pesos. The fee covers the expenses of accommodation, food, material (established within the budget) and advice during all volunteering.
Required Language:
Spanish
Spoken Language:
English, Spanish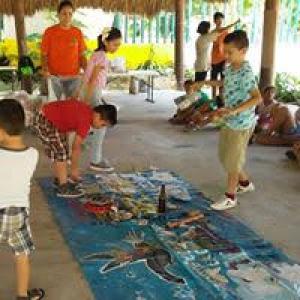 Description: Community center "La Ceiba, the heart of Chemuyil" located in the Chemuyil community inthe municipality of Tulum in Quintana Roo, Mexico, was born in 1997 after the Xel-Há Park detects the need to contribute to the welfare of its inhabitants with actions focused on the provision of basic services and the management and solution of needs. The Center is responsible for coordinating summer camps aimed at girls and boys of the community, as well as offering different activities for the rest of the year to the inhabitants of Chemuyil, with the purpose of generating a sense of belonging and appreciation for the place where they live, and at the same time offering them tools for a better life.
Type of Work: The work will be carried out in the facilities of the community center "La Ceiba, the heart of Chemuyil" in open and closed spaces such as halls, courts, palapas and the garden. The volunteers will participate in the development of recreational and educational activities focused on sensitizing children participating in the camp and in the community through environmental education. They will also carry out activities in the garden that sometimes involve physical work in the loading of land, planting, harvesting and maintenance in general of plants such as oregano, basil, epazote, habanero pepper and papaya, among others. Volunteers can contribute with ideas and activities to be developed in the camp.
Accommodation: Volunteers will stay in a small house where they will have to share a room for a dormitory, it is important to bring their own sleeping bags. They have an equipped kitchenette and a dining room. They will have access to basic services, they will also have access to the internet and cell phone coverage. The project includes three meals a day in standard quantities (300 grams per serving), additional amounts to this must be covered by the volunteer. Any special dietary requirement must be informed before the beginning of volunteering.
Language: A medium level of Spanish is necessary. Volunteers who so request it, are invited to enroll in an intensive program for the improvement of Spanish or any other international or Mayan indigenous language (before or after their project).
Requirements: Volunteers interested in participating in this project must: be over 18 years old, show commitment, responsibility and availability to adapt to the conditions of life during the two weeks of the camp, know how to work in team, have sense of humor, show commitment, maturity and availability to adapt to work with children.
Approximate Location: Community of Chemuyil, at an altitude of 0m above sea level, 40 minutes from the city of Playa del Carmen and 20 minutes from the town of Tulum, Quintana Roo in the Riviera Maya, area recognized for the beauty of its beaches and its surroundings full of nature and archaeological richness. It is a point internationally recognized as part of the Mexican Caribbean to depart to different tourist places such as beaches, cenotes, lagoons, mangroves, archaeological sites and other nearbycities. The climate is warm humid with a temperature ranging from 27ºC to 37ºC with a sensation of 48.
Organization Description: Natate International Volunteering is a nonprofit NGO without any political or religious affiliation, headquartered in San Cristóbal de Las Casas, Chiapas and founded in 2006. Nataté means "The Tree House" in the Maya indigenous languages of Tzeltal and Tzotzil, which are the most widely spoken in the highlands of Chiapas. Nataté collaborates with local, national and international partners to address the needs of the communities and groups with which it collaborates. Our mission is to contribute to society through national and international volunteer service, which supports local activities related to sustainable development, intercultural promotion, environmental awareness, international solidarity, preservation of cultural and natural heritage, support for marginalized groups and vulnerable minorities, alternative education for youth and the general public. Nataté seeks to strengthen local economic and social initiatives through the activities carried out by the volunteers who participate in the workcamps and medium to long-term volunteer service. The workcamps are about two or four weeks long, the medium to long-term volunteer service requires a minimum stay of a month up to a year.