Topic:
12: Art, culture and local history
Work Types:
Festival / Cultural heritage / Sport
Number of Places still available for Males:
9
Number of Places still available for Females:
9
International age:
18 - 30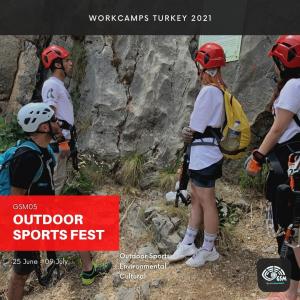 Description: This year we will organize the voluntary work program for the first time, which will be held in cooperation with Kemaliye Foundation of Culture and Development (KEMAV) and GSM. For more information about KEMAV please visit the website https://www.kemav.org.tr.
Type of Work: In this camp, volunteers will help with the preparation phase of Erzincan Kemaliye International Culture and Extreme Sports Festival and daily activities during the festival. Volunteers will deal with auxiliary works about the organization of the festival, visitors, professional and amateur athletes.
Accommodation: Volunteers will be accommodated in double-rooms of the dormitory. Meals will be provided ready at the dining hall of the dormitory and the designated restaurants
Language: eng,eng
Requirements: Ready to do outdoor sports?
Approximate Location: Kemaliye has been a place where different cultures have lived since its foundation. Traces of this common culture are also reflected in the details. The houses located between one thousand and one shades of green formed by mulberry, walnut, plane, poplar trees offer the most beautiful examples of harmony between the natural environment and the architecture. The first thing that strikes you in Kemaliye, a small and charming town situated in a valley stretching between deep canyons, is the wooden houses and the mallets on the doors of these houses. Kemaliye houses and door knockers, which describe the history and sociological structure of Kemaliye for thousands of years, are one of the most prominent features of the city. The mountainous structure of Kemaliye provides a very convenient environment for the performing of nature sports. International Culture and Extreme Sports Festival is held every year in Kemaliye. Within the scope of the festival, windsurfing, base jumping , sportive rock climbing, river sports (caning, and rafting), Lake Sports (water skiing, rowing), mountain biking, outdoor sports such as trekking activities are carried out, and to watch culture and art exhibitions, all nature and culture lovers visit the hidden paradise Kemaliye. Volunteers will have the opportunity to play nature sports and learn new sports, meet international professional athletes and enjoy the festival as part of the International Culture and Extreme Sports Festival. The volunteers will have the opportunity to explore Kemaliye in their free times and learn about the making of traditional foods of Kemaliye, the opportunity to take a boat trip in the canyon and they will be able to learn the history, nature, cultural and natural beauty of Kemaliye.
Organization Description: GSM - Youth Services Centre, was founded in 1985 in Ankara in order to contribute to the personal, social, and cultural development of young people, and to support their active participation in social and economic life. GSM considers the young people as the primary resource and the most dynamic part of the society. GSM believes that the active participation of young people in the social life contributes to the continuation and the development of social infrastructure. GSM, makes effort for the development of youth work and youth policies with a right-based approach so that young people can become individuals who looks to the future with great hopes. GSM, deals with its all programs, projects, and activities within the framework of the basic principles of global education and youth work with a pedagogical approach. It is at the forefront of the studies on the mental, emotional, spiritual, personal, social and cultural development of young people. GSM works under 5 main areas; VOLUNTEERING: Volunteering is a social initiative aimed at helping or meeting a social need and is a unique learning process that contributes to the personal and social development of young people. In addition to the benefits obtained from the voluntary work, the young people involved in the voluntary work; develop skills in problem-solving and communication, learn teamwork, be more tolerant in the social life, cooperate and helping one another, have a better understanding of the society and the world, gain new life experiences, increase self-confidence, and also develop value judgements. GSM is an active participant of International Voluntary Service movement and an implementor of European Solidarity Corps Programs. YOUTH WORKS: Youth Work is defined as social, cultural and educational studies which are aimed to create a learning environment designed to enable young people to discover and realize their potential. Youth Work is an educational process that takes young people into the center, which expresses different types of activities and approaches that will enable their personal, social and emotional development in line with their problems, needs, expectations and rights. GSM deals and carries out its all programs, projects and activities with a pedagogical approach within the framework of the basic principles of Youth Work, and it contributes to the development of youth works with the youth and education programs that GSM organizes. YOUTH POLICIES: National Youth Policy can be summarized as the goverment's commitment on enhancing life standarts of the young people and making opportunities for them and implementing these commitments. Sustainable, inclusive and holistic youth policies that will enable the active participation of young people in social, political, artistic, cultural and economic life have the potential to contribute to the solution expectations and needs of youth and their problems. GSM makes efforts to improve civil society dialogues for the development of Youth Policies and takes part in the related platforms. YOUTH INFORMATION: Youth Information, is a learning method which develops skills of young people in making positive life choices and making the right decisions, also including the education. Youth information; is a learning process that supports the development of youngsters' abilities; their access to beneficial services, opportunities, and possibilities; and their active participation in social and economic life. GSM helps young people to learn their problems and needs, and also makes it easier for them to find solutions. GSM tries to reach young people as many as possible using effective and appropriate ways; creative and innovator strategies, methods, and tools for the needs of different groups; and it serves as a "Youth Information Center". GLOBAL EDUCATION: GSM-Youth Services Centre is Turkey National Coordinator of the Council of Europe North-South Center, the Global Education Network. Global Education; is a holistic approach deals with the increasing links between local and global realities. Global Education which aims to improve participant global citizenship, intents people to understand the world issues, gain knowledge and skills for global problems in the basis of values and behaviors towards the global issues. Global Education helps individuals to understand the complication of the world; be aware of contradictions; understand that there is not one particular solution for complex problems, and think critically. It creates a reflexive educational process for the development of these competences; and for individuals to become active global citizens. Transformative learning enables a common vision for a world which is more fair and sustainable for everyone.