Topic:
7: Children and youth
Work Types:
Work with children
Number of Places still available for Males:
1
Number of Places still available for Females:
0
Number of Places still available - last updated:
02 Jun 2021
International age:
20 - 40
Extra fee to be paid in the hosting country:
50.00 Euro [43 UK Pound Sterling]
Breakdown:
Accommodation and food: 0.00 Euro
Transportation: 0.00 Euro
Activities: 0.00 Euro
Hosting organisation support: 50 Euro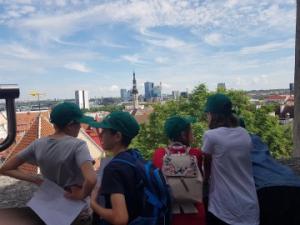 Description: This project partner is ABC Language School situated in the Tallinn city center. The age of young people attending this school varies from 4 to 19. Every year in summer the school runs English language camps for kids which last for a week and are aimed at providing additional studies and real language practice to local kids and young people. International volunteers are warmly invited to join the project and contribute to this alternative learning process. Participation in this camp provides excellent opportunity to practice work with kids and English language teaching as well as to stay in the Estonian capital enjoying numerous attractions it offers to the guests during summer months.
Type of Work: The general camp program is worked out by the supervisor of the camp. Volunteers together with a local project coordinator are responsible for the day activities in the camp. The volunteers task is to provide children with live communication, activate their vocabulary and encourage them to speak English, to perform language activities and games (the vocabulary depends on the topic of the day and level of children knowledge), carrying out the planned activities, taking part in excursions (which are free for volunteers). The total number of camp participants is about 20 kids aged 8-15. The volunteers will work in a smaller group of 10 children in each. Most of the local children are Russian speaking youngsters. Camp activities will take place in the school situated in the centre of Tallinn. In total there are 6 working days: 09-18.00 (1h lunch break) and Saturdays 09-14.00, Sunday is the day off.
Accommodation: We provide studio in Tallinn for 2-3 people with kitchen, toilet and shower. Lunches will be organized for whole camp in the city center, breakfasts and dinners should be cooked by volunteers in the apartment. Ingredients for cooking or money to buy it will be provided by the project host.
Language: eng,eng
Requirements: Special requirementsYou have to be really motivated to work with children. Please provide a motivation letter along with application form. Experience in work with kids or youth is an advantage. Your ideas and actual preparation to do the activities for children are essential. A very good level of English is required. Minimum age of volunteers is 20.Participation feeWe ask participants to contribute 50 Euro towards the costs of general administration. This fee has to be paid by bank transfer before the beginning of the camp. If you cannot make bank transfer please contact your organization
Approximate Location: Camp will take place in the centre of Tallinn, capital of Estonia, www.visittallinn.ee/eng Leisure timeThere are a lot of possibilities for leisure time activities as camp will take place in the Estonian capital Tallinn where one can find attractions for any taste. Summer period is especially reach with cultural events of all kinds.