"Fading Peter" - Theatre, Music and Video Art (Augustaschacht near Hasbergen)
Topic:
12: Art, culture and local history
Work Types:
Art / Study, discussion, research
Number of places still available:
3
Free places last update:
Aug 03, 2022
International age:
18 - 26
Required Language:
English
Spoken Language:
German, Ukrainian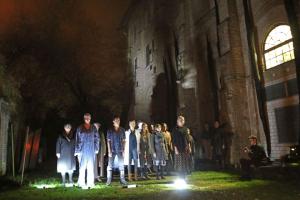 Description: Almost no one knows Peter van Pels. He experienced the same fate during the Second World War as Anne Frank in Amsterdam, who calls him "Peter van Daan" in her diary. Young Peter hid in a back house for two years with Anne Frank and their families until they were discovered and he too was killed by the Nazis. His story will be told and related to the situation of discrimination and exclusion of young people today. All participants, regardless of their background, can bring in their own experiences.
After a phase of joint research, development and rehearsals as well as an excursion to Amsterdam in the footsteps of Peter van Pels, a theatre production with video installations, music and dance is to be performed at the Augustaschacht Memorial for a public audience and for schools.
Type of Work: At the end of the workcamp, we plan several theatre performances for a public audience and for school classes from the Osnabrück region at the Augustaschacht Memorial site. Professional video recordings will be made of the performances. A filmmaker will document the entire production. The Memorial will accompany and communicate the project via social media. This will support the educational work and public relations of the Memorial. The work consists mainly of preparing the content and rehearsing for the theatre performances.
Study Theme: During guided tours of the Augustaschacht Memorial and its permanent and special exhibitions, the volunteers will learn about forced labour and Nazi history as well as their causes and consequences. If interested, you can also visit the Gestapo Cellar Memorial. This year for the first time, the focus is not on a former Nazi forced labourer, but on Peter van Pels. During an excursion to Amsterdam, you will visit the Anne Frank House and take part in a workshop.
Accommodation: The group stays in a community centre in Hasbergen. The group will cater for itself as far as possible, but on some days, the nearby day nursery in Hasbergen can help with the cooking. You will spend one night in Amsterdam, but the accommodation there has not yet been decided.
Covid19: We organise our workcamps according to the regulations at the time of the workcamp. We will inform you about this in the Infosheet and by email. Please mind the vaccination and testing regulations for entering Germany: https://t1p.de/at82o
Language: Camp language is English, so a basic knowledge of English is necessary.
Requirements: Would you like... ...to take part in an international theatre workcamp, play theatre and get to know other young people through a joint production? ...to develop and realise your own ideas? ...to deal critically with history and to question today's situations of exclusion?
Theatre experience is welcome, but not a prerequisite.
Approximate Location: The group sleeps and eats in the community centre in Hasbergen. It is about 4 km from the community centre to the Augustaschacht Memorial site. Schedule:
Virtual meetings via Zoom (get-to-know, inputs, exchange, theatre workshop):
08.7.2022 (18-21h), 09.7.2022 (10-12.30h + 16-18h ) and 10.7.2022 (10-13h + 14-16h) CEST!
Participation in the online programme is compulsory!
Theatre workcamp from 13-31.8.2022 at the Augustaschacht Memorial in Hasbergen
Amsterdam excursion: 17-18.08.2022
Co-organisers: Augustaschacht Memorial https://rb.gy/a7cuyv and Musiktheater Lupe https://rb.gy/edrgie
Notes: Artistic direction & staging: Musiktheater Lupe (Ralf Siebenand: direction, music and Katrin Orth: acting, dance) and Theo van Delft (video production, stage design).
Documentation of the entire production via social media by the Augustaschacht Memorial and by filmmaker Charlotte Bösling.
If you apply through an SCI Partner or Contact organisation, a fee of 50€ applies to contribute to int. insurance and administration costs. For volunteers coming from countries with SCI Branches and Groups, there is no additional incoming fee. You can check the status of your local sending organisation here: https://rb.gy/fveuew. If this fee exceeds your financial ability, please make a comment in your application.
Organization Description: This workcamp is organized by the German branch of Service Civil International (SCI). SCI Germany was founded in 1946 and is approved as a non-profit organisation. We are one of the oldest peace and volunteer organisations. SCI Germany aims to promote peace, non-violence, international solidarity, social justice, sustainable development and cross-cultural exchange through international voluntary work. We cooperate with a network of branches and partners in more than 90 countries. Every year, SCI Germany organizes about 50 international workcamps in Germany.

---
Camp Photographs