Environmental work against invasive species
Topic:
10: Environment protection
Work Types:
Environment / Manual
Number of places still available:
6
Free places last update:
May 18, 2022
International age:
18 - 99
Required Language:
English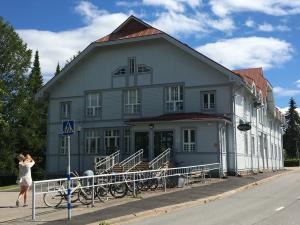 Description: Get your hands dirty in the fight against invasive species! The plant Impatiens glandulifer was originally introduced for gardens, but it has spread widely and is competing with indigenous species now in many areas. The volunteers will join the local efforts in fighting the invasive plant and at the same time get to know the Finnish countryside, its people and nature.
Type of Work: Volunteers will participate in the weeding and cutting down of the plants. The work will be physical and done outside, so volunteers should be prepared with suitable clothes for working outside (rain coats and boots). If weather conditions get especially bad then volunteers will do some work indoors.
Study Theme: Getting to know the local nature and culture.
Accommodation: Volunteers will be housed in a local youth center in a shared space. Volunteers need to bring their own sleeping bags and mattress. Toilets and kitchen will be available at the youth center, but for showers volunteers will get access to the local swimming hall which is located next to the youth center. In the evenings and free days volunteers will cook for themselves.There is a possibility to go swimming or hiking in the nearby areas and visit Kauhajoki town.
Language: English
Approximate Location: Kauhajoki in South Ostrobothnia region in Western Finland.
Notes: Covid-19: Due to the possible changes in the coronavirus situation, we will confirm the camp 4 weeks before the starting date. Please don't book your travel tickets before the camp is confirmed.
Additional Fee: Many SCI workcamps will have an additional fee of €50.00. This will cover eg. local hosting costs & international insurance costs of the volunteer. If you apply through an SCI branch the fee will be included in the fee you pay to your sending branch. If you apply through a partner organization you will pay the fee on arrival direct to the hosting branch or through a transfer system. When accepted on the project the host branch will give you more details. Check branches & partners here: https://sci.ngo/about-us/our-movement/where-we-are/
---
Camp Photographs