Village Community Münzinghof (Velden near Nuremberg)
Topic:
11: Climate and sustainable lifestyle
Work Types:
Agriculture / Construction / Social
Number of places still available:
0
Free places last update:
Jun 08, 2022
International age:
18 - 99
Required Language:
English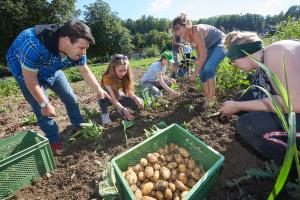 Description: Münzinghof is a village community, located in the Nuremberg region, surrounded by forest, meadows and fields. There are around 150 people of all ages, with and without mental disabilities, who live and work there together. They mostly live in so-called "chosen families", i.e. with 15-20 people in one household. They work in a wide variety of areas, in bio-dynamic agriculture, dairy, candle making, in housekeeping, care, facility management, …
In summer they have company holidays, so some of them are not on site - and they have space for you! They look forward to meeting you, to campfire evenings and wood-fired pizza, and of course to your support for a number of projects!
Type of Work: Anyone who comes to Münzinghof should definitely enjoy cooking, because one of the tasks of the camp will be to prepare lunch: for you and also for about 15 villagers who work in gardening, agriculture, cheese making and facility management. You can use all of the wonderful organic farm products, among other things. In addition to cooking lunch every day, there is a lot to do in the market garden in summer, whether planting, harvesting or weeding. And there is also a lot of work to be done in terms of craftsmanship: for example, there is a new path to be paved and window frames in some houses to be sanded down and painted.
Study Theme: You can get insights into biodynamic agriculture and gardening as well as into sustainable forestry and also into the form of inclusive community life at the Münzinghof.
Accommodation: The event hall will be your bedroom and lounge. Please bring sleeping bags and sleeping pads with you. For the most part, you will use the farm products for cooking, vegetables from the market garden, milk- and meat products, cereals, lentils, pasta,... all organic. It is eaten mainly vegetarian food, vegan is also possible.
Language: The common language will be English.
Requirements: Enjoying cooking with fresh ingredients, openness to other ways of life and people, be happy to work outside.
Covid19: We organise our workcamps according to the regulations at the time of the workcamp. We will inform you about this in the Infosheet and by email. Please mind the vaccination and testing regulations for entering Germany: https://t1p.de/at82o
Approximate Location: Münzinghof is located northeast of Nuremberg in the beautiful Hersbrucker Schweiz. The area is very rural, characterized by meadows, forests and fields, it is ideal for hiking and it is a popular destination for climbers for the special rock formations. In the valley, a river, the Pegnitz, meanders through the landscape. If you fancy a little refreshment, you can get it here. The train journey to Nuremberg takes about 45 minutes. The nearest village with shops is about half an hour's walk away.
Notes: Please kindly note that there is an additional incoming fee of 50 € for all volunteers applying through Partner organisations or Contacts of the SCI network. This will cover international insurance costs of the volunteer and administration costs of SCI International. For volunteers coming from countries with SCI Branches and Groups there is no additional incoming fee.
You can check the status of your local sending organisation here: https://sci.ngo/about-us/our-movement/where-we-are/.
If this fee exceeds your financial ability, please make a comment in your application.
Organization Description: This workcamp is organized by the German branch of Service Civil International (SCI). SCI Germany was founded in 1946 and is approved as a non-profit organisation. We are one of the oldest peace and volunteer organisations. SCI Germany aims to promote peace, non-violence, international solidarity, social justice, sustainable development and cross-cultural exchange through international voluntary work. We cooperate with a network of branches and partners in more than 90 countries. Every year, SCI Germany organizes about 50 international workcamps in Germany.

---
Camp Photographs