Eco-friendly and Sustainable Project in a Castle
Topic:
12: Art, culture and local history
Number of places still available:
2
Free places last update:
Jul 20, 2022
International age:
18 - 99
Spoken Language:
English, French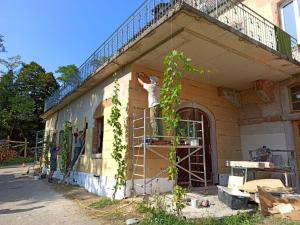 Description: Château Langenberg is located in Wissembourg a French small village very close to the German border. It is an area including a castle where a community is living. The community owns a 20 hectares area with the castle that is surrounded by forest and nature. They are trying to achieve self-sufficiency and sustainability therefore this criterions lead the way they develop their community. In order to achieve that, they are building small eco-friendly houses, developing permaculture garden, renovating the castle to make it energy-efficient. They are developing many other projects such as a pedagogic farm, an eco-camping or a natural water treatment plant. Beside that, the community is also taking care of horses and developing a "paradise paddock" for them.
Type of Work: The volunteers will be in charge of the renovation of the castle and its surroundings. They will participate in the installation of straw bales, the renovation of the wooden beams of a ceiling, the construction of a wooden shelter and the shoring of the foundations of the stable.
Accommodation: Participants will be accommodated in dormitories. Volunteers will be responsible for preparing meals and washing up.
Requirements: Volunteers must bring work clothes and personal protective equipment (gloves, glasses, FFP2 masks) for work on the site. For daily life you will need to bring sleeping bags, flashlight/headlamp and earplugs.
Approximate Location: The workcamp will take place in Château Langenberg.
Notes: Additional costs: Many SCI volunteering projects will have an additional cost of €50.00. If your application is made through an SCI branch, this fee will be included in the registration fee you pay to that branch. If you apply through a partner organisation, you will pay the fee when you arrive at the project location; directly to the host branch.
Organization Description: La branche française du mouvement, créée en 1936 et actuellement à Lille.