Agriculture / Environment
This project is part of the SCI North South Programmes. Volunteers should be 20 years old, have previous volunteering experience and take part in the Preparation Workshops organised by their sending branch. More details from your sending branch.

Topic:
11: Climate and sustainable lifestyle
Free places for Females:
5
Free places last update:
Apr 08, 2022
International age:
18 - 99
Extra fee to be paid in the hosting country:
250.00 Euro [255 US Dollar]
Breakdown:
Accommodation and food: 100.00 Euro
Transportation: 50.00 Euro
Activities: 50.00 Euro
Hosting organisation support: 50 Euro
Purpose of extra costs:
Feeding, Accommodation, Return local Transport to and from Venue, Evening pop up, On-arrival preparation, mid-camp evaluation, planned excursion and final evaluation
Required Language:
English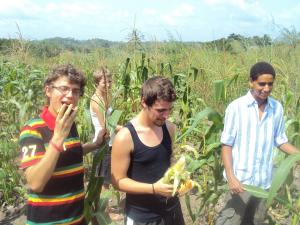 Description: its name from the way in which hawkers advertised roasted yams to the northern caravans who constantly congregated in the town. The method of hawking employed was Eru wa nibi o i.e. (pieces of yam are available here). The four quarters in Eruwa at that time; Anko, Oke Oba, Isaba and Aborerin settled on Ilewu hill which offered greater protection and security during the period wars in Yoruba land (from 1830's to 1890's). The indigenous economic activity of the people of Eruwa revolves around agriculture which includes farming, hunting and animal husbandry. The town now have many higher institutions engaging the young school leavers to improve their education and advance to the higher level through tertiary education.
Type of Work:  Gathering of seeds and making ridges and trenches  Planting of varieties of crops and nurturing the plantation  Group dynamics and active youth participation.
Study Theme: Environment / Agriculture
Accommodation: Volunteers will stay together in Accommodation provided near the project. Cooking will be done in turns and all other activities will be done together. There will be showers with bathrooms and toiletries available for campers.
Language: English is preferred
Requirements: Working clothes, tents, mosquito nets, charts / books, tools and gloves, mosquito repellent lotion, sleeping bag, spread, pillow and water purifying tablets. Games like chess, playing cards and musical instruments are welcomed.
Approximate Location: The location of workcamp will be at Apode Area of Eruwa Town, Near YMCA Agriculture Centre, in Ibarapa Local Government area of Oyo State.
Notes: Come with your energy and motivation and be part of group dynamics to create synergy in the midst of the project.
---
Camp Photographs