SEEDS 018. The Highlands North of Vatnajökull Glacier
Topic:
10: Environment protection
Work Types:
Construction / Environment / Restoration, renovation
Free places for Females:
0
Free places last update:
May 20, 2022
International age:
18 - 99
Extra fee to be paid in the hosting country:
150.00 Euro [153 US Dollar]
Breakdown:
Accommodation and food: 0.00 Euro
Transportation: 0.00 Euro
Activities: 0.00 Euro
Hosting organisation support: 150 Euro
Purpose of extra costs:
Participation / Extra fees support the ongoing work of SEEDS and our activities. For this particular case the entire fee might not necessarily go towards your camp. The fees of your camp are mainly used for: - Provision of food and/or accommodation, some extra free time activities, transport from the meeting point. - Support for the ongoing work of SEEDS and our activities, such as co-funding for our long-term volunteers and project coordinators and administrative costs of the association.
Required Language:
English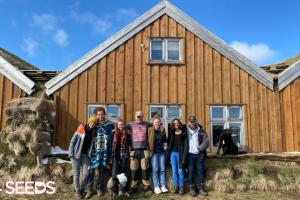 Description: For the eleventh year, SEEDS volunteers will have the chance to work in this special project based in the highlands, east of Lake Mývatn and north of the Vatnajökull glacier. The area has been inhabited since the early times of settlement. Our hosts are a family, descendants of farmers from the area, trying to develop new opportunities for work and alternative jobs in this very remote area, since farming at such altitude is very difficult. They are running diverse facilities and offer services for local and foreign visitors.
Type of Work: Volunteers will support the locals in removing the trash left by visitors and helping restore the land damaged by off-road driving. Volunteers will also help with repairing an old turf building, restoring it to its previous form and making it look similar to several other turf buildings in the surroundings. Additional work may be fixing and maintaining walking paths and making a new trail. Well-maintained paths enable people to visit the area without damaging it and this important work also helps to improve safety for visitors.
Study Theme: Please note that the work in this camp (such as turfing) can be very physically demanding and volunteers need to be in good shape and ready to work hard. As it is outdoors work, volunteers shall be ready to adapt and be flexible with the working and free-time schedule, as, depending on the weather, we may not be able to perform some of the tasks or activities planned. The weather conditions are unpredictable and the temperature in the highlands can drop below zero in the nights. Bring warm clothing, since the work takes place outdoors.
Accommodation: Volunteers will be lodged in a house at one of the farms, sleeping in shared rooms with beds, please bring your own sleeping bag. Volunteers will receive food ingredients and be in charge of cooking and cleaning activities. An equipped kitchen and a washing machine are available. Do not forget to bring some traditional/typical food or drinks from your country for the intercultural evening.
Language: English will be the language in the camp; basic conversational skills are needed.
Requirements: Volunteers should be motivated to experience life in a very isolated part of Iceland. Participants should bring good, sturdy walking shoes & warm working clothes. Weather is unpredictable and it can be cold or rainy. Bring warm under layers, waterproofs, walking shoes/boots, a good sleeping bag and gloves.
Approximate Location: The camp is located in the highlands of Iceland, at the highest inhabited place in the country at 469 meters above sea level. The location is in the North-Eastern part of the country and in the vicinity of the largest national park in Europe - Vatnajökull National Park. Mount Herðubreið, the queen of Icelandic mountains, is located in the area. It is situated to the east of the Ódáðahraun desert and close to the Askja volcano. The desert is a large lava field originating from volcanic eruptions in the area.
Notes: Participation fee EUR 150 (Euros). The fee can either be transferred in advance via bank transfer, or paid in cash on arrival. The participation fee does not include the transportation from Reykjavík to the camp and back, which will cost EUR 75 (Euros) one way or EUR 150 (Euros) both ways. This work camp takes place in a very remote region, located in a natural area of extreme beauty. Free-time outdoor activities, for instance hikes or walks in the surroundings, will be arranged for SEEDS volunteers.
Organization Description: SEEDS is an Icelandic non-governmental, non-profit volunteer organisation designed to promote intercultural understanding, environmental protection and awareness through work on environmental, social and cultural projects within Iceland. SEEDS works closely with local communities, local authorities and other Icelandic associations both to develop projects in partnership, aimed at fulfilling an identified need, and to give assistance to established initiatives. Projects are designed to be mutually beneficial to all involved: the volunteers, the local hosting communities and Iceland as a whole. Every year host more than 1200 international volunteers from 50 to 60 different countries.