SEEDS 055. Hiking trails & Forestry - Dalabyggð
Topic:
10: Environment protection
Work Types:
Construction / Environment
Free places for Females:
2
Free places last update:
Jul 15, 2022
International age:
18 - 99
Extra fee to be paid in the hosting country:
300.00
Breakdown:
Accommodation and food: 225.00
Transportation: 50.00
Activities: 25.00
Hosting organisation support: 0
Purpose of extra costs:
Participation / Extra fees support the ongoing work of SEEDS and our activities. For this particular case the entire fee might not necessarily go towards your camp. The fees of your camp are mainly used for: - Provision of food and/or accommodation, some extra free time activities, transport from the meeting point. - Support for the ongoing work of SEEDS and our activities, such as co-funding for our long-term volunteers and project coordinators and administrative costs of the association.
Required Language:
English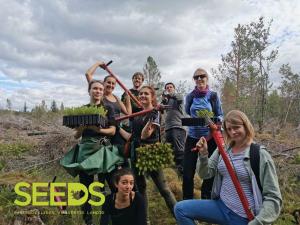 Description: SEEDS volunteers will be working on a country-side project in a beautiful forest located in the Dalabyggð district in the West of Iceland, doing nature-conservation and environment-oriented tasks. SEEDS has been cooperating with the Icelandic Forest Service and our groups of volunteers have been helping out for 15 years in different locations all around the country; with very good results for the participants, the projects and the Icelandic nature conservation and reforestation efforts.
Type of Work: The main tasks will be to maintain hiking paths, build stairs, make and put up signs. Volunteers will also put up benches and tables in the forest. Other tasks will be to trim branches and beautify groves that are located near hiking paths. Well maintained paths enable people to visit these amazing areas without damaging the surroundings and in addition our volunteers' work helps to improve safety for visitors. Weather is unpredictable and it can be cold and/or rainy, be prepared to experience all kinds of weather. We recommend bringing good walking shoes/boots, warm and/or waterproof clothes (underlayers, overcoats, scarves, gloves and hats), as most of the tasks and activities take place outside.
Study Theme: No previous experience is necessary, but the work is demanding and requires a good physical condition. As it is outdoors work, volunteers shall be ready to adapt and be flexible with the working and free-time schedule, as depending on the weather, we may not be able to perform some of the tasks or activities planned.
Accommodation: SEEDS volunteers will sleep in different facilities provided by the Forest Service. At the location there is a caravan, also a container furnished for housing and a heated tent. The caravan and the container house are equipped with kitchens and bathrooms. We will have access to the local swimming pool for the showers. Please bring your own sleeping bag. Volunteers will receive food supplies and will be in charge of cooking and cleaning. Do not forget to bring some traditional/typical food, drinks, music and recipes from your country for the intercultural evening.
Language: English will be the language in the camp; basic conversational skills are needed.
Requirements: Participation fee EUR 300 (Euros). The fee can either be transferred in advance via bank transfer, or paid in cash on arrival. The participation fee does not include the transportation from Reykjavík to the camp and back, which will cost EUR 30 (Euros) one way or EUR 60 (Euros) both ways.
Approximate Location: The project will take place in the West of Iceland countryside; in a district called Dalabyggð ('Valley district'). Dalabyggð was formed in 1994 when 8 municipalities were merged. The only town of Dalabyggð is Búðardalur, with about 300 inhabitants is a service center for the area. The village has a long history, dating from the time of the first settlements in Iceland. The name means "Camp Valley", or more directly "dale of booths"; it is where settlers had temporary camps when coming to the area.
Notes: At a short distance from the village is Eiríksstaðir, the homestead of Erik the Red, who discovered Greenland and whose son Leifur Eiríksson, born at Eiríksstaðir, discovered America ahead of Columbus. There are many valleys in Dalir and often it is unclear where one starts and another ends. Further away from the coastline lie the many islands of Breiðarfjörður in all their glory which form a magnificent view when bathed in the light of the setting sun over this great fjord. The area is popular with hikers who can choose from many different paths and routes ranging from 'easy' to 'challenging' and 'difficult'. Dalabyggð is not only famous for hiking, it is mentioned in many of the Sagas and was the setting in two of the most famous from 850 to 1300.
Organization Description: SEEDS is an Icelandic non-governmental, non-profit volunteer organisation designed to promote intercultural understanding, environmental protection and awareness through work on environmental, social and cultural projects within Iceland. SEEDS works closely with local communities, local authorities and other Icelandic associations both to develop projects in partnership, aimed at fulfilling an identified need, and to give assistance to established initiatives. Projects are designed to be mutually beneficial to all involved: the volunteers, the local hosting communities and Iceland as a whole. Every year host more than 1200 international volunteers from 50 to 60 different countries.