Edible permacultural park
Topic:
10: Environment protection
Work Types:
Agriculture / Environment / Manual
Number of places still available:
1
Free places last update:
24 May 2018
International age:
18 - 99
Required Language:
English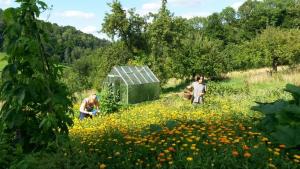 Description: "Hvozd" (aka deep forest) is a unique community of musicians, herbalists, jogis and craftsmen, who met in a beautiful village with many cultural and architectural highlights. Nowadays you can find them in their gardens, meadows, forest - simply surrounded by nature. All of their activities are based on principles of permaculture, about which they further educate the broad society. They look forward to more volunteers, eager to learn more about preserving nature and taking care of what we have.
Type of Work: We will help with creating an edible, permacultural park. That includes – building paths – creating land-art fence from branches and other natural material – making benches – creating small ponds – building natural monkey bars for children.
Study Theme: You will learn about environment, its protection and permaculture. You will learn about diversity and its way to promote it even in your own garden.
Accommodation: Volunteers will be accommodated in a house and sleep in beds. The adventurous ones are also encouraged to try and sleep outside (or just try it out for one night) on mats. There is a bathroom & toilet in the same building. Volunteers will have access to kitchen and help with preparation of meals. The diet is strictly vegetarian, vegan food is also possible.
Approximate Location: The camp is located in beautiful town in the north of the Czech Republic. It is perfect for trips in calm woods, exploring cultural heritage or enjoying sport activities.
Organization Description: Tamjdem (in translation "There we go") is a non-governmental non-profit organization based in the Czech Republic. Where do we go? Since 2013 we organize international workcamps, voluntary weekends and other events in order to contribute to the development of non-profit sector in the Czech Republic as well as abroad, support active and responsible society and connect volunteers with interesting non-profit organizations and initiatives. We believe that volunteering is a way to show that you care about the world, chance to support public benefit projects, gain new experiences or skills, and get to know yourself, your neighbours and the world.