Become Hakka and Experience the Taiping Indigo Dye Culture
This project is part of the SCI North South Programmes. Volunteers should be 20 years old, have previous volunteering experience and take part in the Preparation Workshops organised by their sending branch. More details from your sending branch.

Camp code:
TW-VYA 12.1816
Country:
Taiwan, Republic of China
Topic:
12: Art, culture and local history
Work Types:
Art / Environment / Manual
Free places for Females:
4
Free places last update:
08 May 2018
International age:
18 - 35
Extra fee to be paid in the hosting country:
0.00
Required Language:
English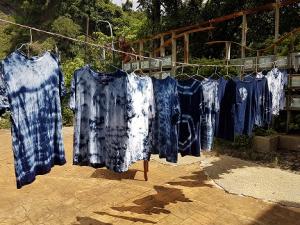 Description: Water Resource Culture Foundation has been publicizing Hakka Indigo-dye tradition in Dong-Bian Village, Taiping Dist. Volunteers will experience tradition handcraft and enjoy the beautiful landscape in Taiwan. Indigo-dye is made from natural botanical dyes. It is Hakka culture. Due to the poor sales of agricultural products recent years, cause many young people moved out the community. This made the rural even more aging. In order to re-activate the community, we promote the "Taiping Blue-Dye", hope to make Dong-Bian more popular and active.
Type of Work: 1. Help residents and elementary student doing "Taiping Blue Dye" and teaching leaf rubbing.
Sightseeing Tour of the Shihmenkeng River and clean the river.
To accompany and care for the community physically and mentally handicapped. (You may provide service for at least 5-10 people per time.)
Experience Hakka Indigo-dye You can bring one Indigo-dye cloth which is made by yourself home.
Accommodation: 1. Stay at Dong-Bian Elementary School. Participants will stay in shared room. We will not offer participants clean sleeping bag during the camp, and you are expected to bring your own laundry detergent. Several toilets and (at least one) shower room are facilitated in the accommodation.
Food will be offered by Taiping Blue Workshop. In your free time, you can travel around try various and delicious food of Taiping, especially Taiwanese food!
Language: Chinese Mandarin
Requirements: 1.Be on time 2.Safety first 3.Always smile 4.Enthusiasm 5.Group work, always be together 6.The weather is hot and humid here.
Approximate Location: No.20, Sec. 4, Changlong Rd., Taiping Dist., Taichung City 411, Taiwan Google Map:https://goo.gl/maps/dH7bU9J7R2G2