Country:
Russian Federation
Topic:
7: Children and youth
Work Types:
Work with children
Number of places still available:
7
Free places last update:
09 May 2018
International age:
18 - 33
Extra fee to be paid in the hosting country:
0.00
Required Language:
English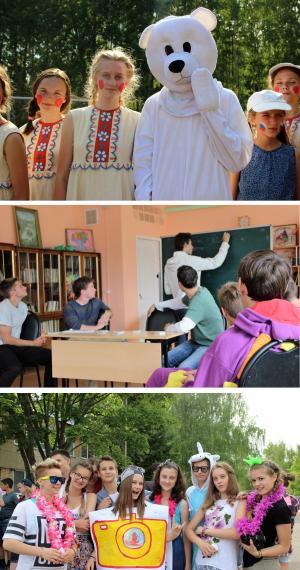 Description: The organizer of the camp is an independent nonprofit organization Informational and Educational Centre "Sodruzhestvo" located in Ryazan. Our Camp has good traditions and long history. Over 2500 children from 30 regions of Russia and have participated in our programs. We also got help and support from volunteers from more than 20 countries representing Russia, Europe, Asia, Africa and the USA. The participation in the camp's program helps children to improve their knowledge in Economics and English, as well as creates intensive environment to develop the students' talents. As for volunteers, our camp has a good opportunity for the exchange of teaching experience and original ideas in non-formal educational process and special cultural events.
Type of Work: This year the camp is celebrating its 25th anniversary. The volunteers will be involved in organizing animating, educational activities for children. They are expected to conduct linguistic workshops, to prepare different events and lead them for children, to organize and judge the sport matches. Another task for the volunteers is to elaborate and organize the days of their own countries for the children. Volunteers will participate in different activities like: cinema festival, social entrepreneurship day, intercultural day, etc.
Accommodation: The volunteers will live in two floored buildings on the territory of the camp (4 persons per room). A shower and a bathroom are available on the same floor with the living rooms. The food will be provided in the canteen.
Language: any level of Russian is welcome
Approximate Location: The camp place is situated in Ryazan region (90 km from Ryazan) in the national park Meschera so the participants will have an opportunity to enjoy the beautiful Russian nature. Ryazan is an ancient Russian town about 190 km southeast of Moscow. It is beautifully located on the Oka river, with a very romantic Kremlin, standing high above the city.