Camp code:
JP-NIC 7.1810161
Topic:
7: Children and youth
Work Types:
Work with children / Disaster relief
Free places for Females:
0
Free places last update:
31 Aug 2018
International age:
18 - 99
Extra fee to be paid in the hosting country:
0.00
Motivation letter:
This camp requires an additional motivation letter to explain in more detail why you would like to attend.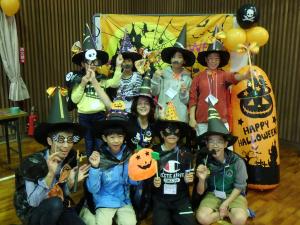 Description: This work camp has been organized together with Local group since 2017. A giant earthquake occurred in Kumamoto prefecture in the southern part of Japan on April 14th 2016, causing unprecedented damage. Over 30,000 of the houses were damaged and many people have to live in temporary houses. The children can not play in the school playground because there are so many temporary houses there. NICE would like to give an opportunity for the children to enjoy outdoor activates . We are going to organize English halloween camp for 30 Kids aged 9-12 years old.
Type of Work: NICE will organize the Kids camp and run this program with volunteers from around the world. Your task includes, but not limited to, playing and living together with the children and supporting them when necessary all day! Volunteers will also be providing international games. You have a chance to show your culture, music, dance and games for the children. Please bring a lot of ideas about songs, games and dance so you can play with the children. and enjoy Halloween with the children!
Study Theme: Getting to know the Kids, outdoor activities management, and reconstruction from the Earthquake disaster.
Accommodation: Youth Training Accommodation. Simple self-catering. Basic Foods are provided. Some times you can cook with camp members. Share room.
Language: English (Japanese is also welcomed!)
Requirements: Need High motivation to work for disaster area and respect the local culture and way of the local organization! Motivation letter is required. Persons who do not have any criminal or sexual or physical abuse record! During the kids camp(1night 2days), non smoking and non alcohol.
Approximate Location: Kumamoto in the center of western Kyushu Island. Its convenient location allows easy access to other prefectures in Kyushu. The inland valley of Kumamoto has four distinct seasons and experiences a wide range of temperatures throughout the year. The region receives high levels of rainfall in June during the rainy season and because of the plentiful spring water that accumulates in the aquifers around Aso, Kumamoto is known around the world for supplying its 670,000 citizens with the water they need to conduct their daily lives. Agricultural, fishery and IC industries.
Notes: Other activities: Excursion, Mountain trekking, Onsen (hot spring spa) etc.