Intercultural Relations and Active City Communities
Topic:
13: Community life
Work Types:
Art / Festival / Social
Number of places still available:
0
Free places last update:
23 Jul 2018
International age:
18 - 99
Extra fee to be paid in the hosting country:
0.00
Required Language:
English
Motivation letter:
This camp requires an additional motivation letter to explain in more detail why you would like to attend.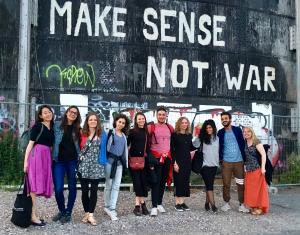 Description: Come and help to organize an Open Carnival and share stories of an international neighborhood! Badbaado is a grassroot social organization run by Finnish Somalis living in Helsinki area. The organization offers different cultural activities and social support according to the needs of the Somali community in Eastern Helsinki.
Lapinlahden lähde is a community space run by different organizations that supports mental health and well being by organizing different grassroot level social activities together with artist form different fields. In the camp volunteers will work together with these organisations helping them to organise their festival events.
Type of Work: The volunteers will get introduced to the activities of Badbaado and Finland's Somalia Network. They will organize a photography and storytelling project focusing on stories of the residents of the international Itäkeskus neighborhood in Helsinki. They will also help with some practical arrangements of Puhos festival, one of the Badbaado's annual events. The outcomes of the project will be presented at the festival and in a blog. In addition the volunteers of the camp will help multiculturality project Miitti to organize an event called Open Carnival at Lapinlahden lähde, in which they will give a dance and costume making workshop for people with different backgrounds. Open Carnival is organised as part of the Night of the Arts event in Helsinki.
Study Theme: The volunteers will learn about Finnish-Somali relations and the position of Somali community in Finland through getting introduced to the work of Badbaado and Finland's Somalia Network. The volunteers will also learn about different means of city activism and ways of promoting intercultural communication. They will learn about the use of photography, interview and blog keeping as means of storytelling and social activism.
Accommodation: In Seikkailutalo Youth House in a beautiful location by the sea in Vuosaari district, Eastern Helsinki. There are many interesting free time activities available such as canoeing and different outdoor games. The house has a kitchen, and the volunteers will cook most of the meals by themselves. The volunteers will sleep on mattresses on the floor and will need to bring their own sleeping bags. Tickets for public transportation will be provided for the volunteers.
Language: English
Requirements: An extra motivation letter is required. Volunteers should be interested in intercultural communication, media and arts, and to be ready to take part in a project that involves work with different organizations and in different locations in the city. As keeping a blog will be part of the project, interest in writing, photographing or editing will be an advantage.
Approximate Location: Helsinki
Notes: This camp is part of the SCI's project Branching Out: (re)connecting ideas that seeks to promote collaboration between organizations working on themes of social inclusion and intercultural dialogue.