Town hall for culture (Lichtensteig SG)
Topic:
12: Art, culture and local history
Work Types:
Art / Restoration, renovation / Social
Number of places still available:
0
Free places last update:
04 Jan 2019
International age:
18 - 99
Extra fee to be paid in the hosting country:
0.00
Required Language:
English
Child friendly camp
Yes (Minimum age: 12)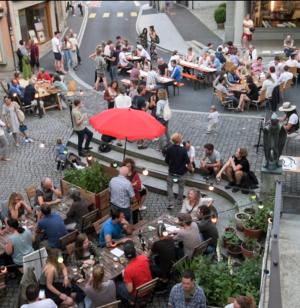 Description: The local government of Lichtensteig, a municipality in the Toggenburg region in Switzerland, moves out of the town hall towards the end of 2018. Thus in the middle of the medieval town centre, over 700 square metres will be set free. Since the town hall should not be left empty, the town hall becomes a cultural centre instead, the «Rathaus für Kultur» (RFK). As an association, it will provide affordable studios and rehearsal rooms for artistic work and meetings, a residency for young artists, an art school for children, an exhibition space and a small bistro. It's a place for cultural participation and gives young people a chance to start their own projects, accompanied by the support of RFK team.
Type of Work: Renovation of the townhall (Rathaus für Kultur): Painting walls and ceilings, grinding doors and tearing out carpets and replacing them. Furnishing the setup of the studio for artists in residence: Transportation of furniture & furnishing.
Study Theme: Presentation: 2 h - Expectations of the volunteers, short presentation of the organisation, Input on culture in a rural area / migration of young people from the countryside to cities and guided tour through the town hall, the studio and the town. Workshop: Peace mission of the SCI movement and "Rathaus für Kultur": 2 h - Inclusion through art and culture, participation; Empowerment of people who want to work artistically or start their own project; cooperation with local organisations and inhabitants of the town. We don't want to force our views upon you, rather hold a workshop eye-to-eye.
Accommodation: There is an appartment for the volunteers with a living room, a kitchen, a bathroom and a shower on the top floor of the town hall. There will be 1-2 volunteer per room. Mattresses, bed sheets & blankets will be provided. There will be free access to a laundry machine and internet. The volunteers have to buy their own food for breakfast and dinner together – a budget is provided. Lunch will be prepared.
Organization Description: SCI Switzerland is a non-profit-organisation which stands for intercultural exchange, sustainable development and non-violent conflict resolution. It is certified with the Intermundo-SQS-label, which guarantees high quality standards in youth exchange. SCI Switzerland has been organizing workcamps and long-term exchanges for volunteers worldwide since 1920. Each year, more than 100 volunteers from Switzerland engage in SCI projects abroad, while around 200 international volunteers work in projects in Switzerland. Swiss workcamps have a main focus on the work and exchange with children and youth living in asylum-seeking centres as well as environmental protection. In that line SCI Switzerland promotes a more environmental-friendly lifestyle in accordance with the goals of sustainable development. Therefore volunteers are expected to be aware of their environmental impact and encouraged to choose more eco-friendly means of transport. Please also check transportation costs within Switzerland before applying for our camps as this is expensive. Enter the place (to be found in the camp title) in the railway website www.sbb.ch. A participation in the camp from the first until the last day is needed for reason of instruction and group dynamic.