Meditation and Natural Farming at 1,135 Metres Above Sea Level
Topic:
11: Climate and sustainable lifestyle
Work Types:
Agriculture / Environment / Peace
Number of places still available:
8
Free places last update:
02 Nov 2018
International age:
18 - 99
Extra fee to be paid in the hosting country:
120.00 Euro
Purpose of extra costs:
To cover for the food and accommodation at the camp, transport to Cameron Highland, SCI insurance during the camp, and sight seeing during the camp
Required Language:
English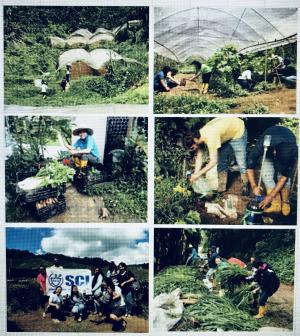 Description: The workcamp will be held in an interesting model Organic Farms located in Ringlet, Cameron Highlands, 1,135 metres above sea level. The Volunteers will get to experience in Ringlet, farmer Mr. Fung with 20 yrs of highland living and Commercial Farming without a single drop of chemical over this period.
An opportunity to lead a simple farmer's life in a place filled with lush greenery and fresh crisp air. A good time for reflection, making new friends and learning how to coexist in Peace and Harmony with Nature and People, with the guidance of knowledgeable host.
Type of Work: The volunteers will work and help in the farm - making planter boxes out of wood pallets, beautifying the farm and green management . Be open and prepared for varied farm's work. There are always interesting and needed work.
Volunteers will have one day off from work. At Cameron Highland, fondly known for its breathtaking scenery, natural waterfalls and misty rolling mountains which are conducive to the cultivation of tea, vegetables, flowers, fruits and strawberries, Cameron Highlands is also known as the "Giant Green Carpet" of Malaysia.
Study Theme: The main idea is to provide an opportunity to work and learn in which organic farming can support our Climate and Sustainable Living. There will be discussion and tours given on the various concept of Organic Farming and its benefits.
Malaysia though a secular country with Islam as their official religion has an interesting multiracial and cultural society and provides an excellent study case where people can lives in harmony. This would be an area for open discussion too.
Accommodation: Basic accommodation in tents. It is highly recommended to bring your sleeping bag with you: Adequate bathing and toilet facility available. No Wifi however, one may subscribe to the many mobile network. We strongly urge participants refrain from playing with e-games or engaged in chat-groups during our Study Group Discussion and Reflection time.
Language: English is widely understood, though Malay and Cantonese (a Chinese Dialect) are commonly used for daily conversations outside the farm.
Most street signs and banners will be in Malay and Mandarin.
Requirements: Interested in small scale Organic Farming. Willing to experience simple farm life. Independent and able to find his way around. Willing to learn and share. Only motivated volunteers are invited to apply.
Approximate Location: Ringlet, Cameron Highlands, Pahang
Notes: 1. Life at the farm is a very natural and simple one. Cameron temperature is around 16 deg, participants are urged to bring warm clothing.
2) Meals will be cooked collectively mostly on site.
3) The farm has sufficient toilet capability, but it uses the traditional Asian style (squat toilet).
4) Free day - may organised Sight-seeing - Optional