Bahtera Kasih Happy Children
This project is part of the SCI North South Programmes. Volunteers should be 20 years old, have previous volunteering experience and take part in the Preparation Workshops organised by their sending branch. More details from your sending branch.

Topic:
7: Children and youth
Work Types:
Work with children / Social
Free places for Females:
5
Free places last update:
10 Oct 2018
International age:
18 - 99
Extra fee to be paid in the hosting country:
2250000.00 Indonesian Rupiah
Required Language:
English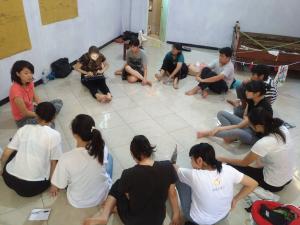 Description: Bahtera Kasih is a protestant orphanage located in a small village, suburban or Semarang city. There are approximately 50 children and more than 50% of the children are under 10 years old. The orphanage has their own kindergarten called Garuda Jaya where all the children study and the kindergarten is also open for public. Since early age, the children taught to clean and tidy up their own room and the orphanage e.g. folding clothes, washing clothes, sweeping the floor, taking shower, etc. The kids are so lovely and they are so excited everytime there are volunteers coming in the orphanage. Every year , the orphanage organize an event to celebrate christmas by inviting all local people in the village. The event is usually doing sport together, music performance
Type of Work: 1. Supporting the orphanage to organize event;
Showing kids on learning how to keep the room and orphanage clean as well as doing households tasks together with kids;
Introducing kids new language and playing educational games.
Study Theme: Kids, Education, Social
Accommodation: THE ORPHANAGE. Volunteers will share together sleeping space separately between females and males. Only limited beds available. Need sleeping bag and bed sheets. Shared bathroom. Volunteers will make concensus on common rules & daily teams for their collective living group.
Language: English, Indonesian language with children
Requirements: Strong motivation and interest in organizing event and non formal learning methods for kids.
Approximate Location: Semarang, Central Java, Indonesia. Famous with its culinary and hill panorama. https://goo.gl/maps/fMBu9kKYyj62
Notes: Bring mosquito repellent or mosquito net.