Lombok-sasak Village Camp 1
This project is part of the SCI North South Programmes. Volunteers should be 20 years old, have previous volunteering experience and take part in the Preparation Workshops organised by their sending branch. More details from your sending branch.

Camp code:
ID-PKB 12.1901
Topic:
12: Art, culture and local history
Work Types:
Cultural heritage / Work with children
Free places for Females:
6
Free places last update:
01 Nov 2018
International age:
18 - 99
Extra fee to be paid in the hosting country:
220.00 Euro
Purpose of extra costs:
The cost will cover the accomodation, Food, Material of the project, IIWC-Tshirt and Certificate of participation.
Required Language:
English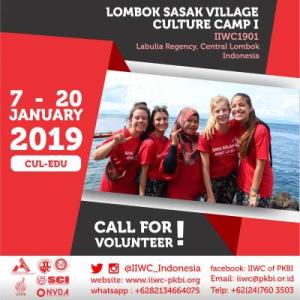 Description: Sengkoah Village is located on the border of Lombok Tengah regency, West Nusa Tenggara. This new village officially became one of the tourist villages in Lombok. Sengkoah Village became tourist village which can be said to be new and managed to be the winner of the best custom village in West Nusa Tenggara . The village has social and cultural potential. The village was built with the aim of eliminating the exploitation of children where children in the village were taught how to preserve their own culture. , they build this village into a child-friendly tourist village. where the villagers and children are productive by joining some activity that arrange by local community.
Type of Work: 1.Help and learn together with community in guiding their child to learn about the culture.2.Manage English classes for youth and local communities3.Conducting activities with the village community 4.Intercultural learning5.Help local people promoting their village culture.6.Learn about Sasak culture in the view of the surrounding community
Accommodation: The volunteers will stay in house family with shared toilet and bathroom and the Volunteers will join the daily team (Cooking, washing and cleaning team every day) which will be in shifts.
Language: English
Approximate Location: Jln. Bypass Labulia Kec. Jonggat, Central Lombok,
Organization Description: IIWC (Indonesian International Work Camp) is one of PKBI (Eng: Indonesia Planned Parenthood Association) program who deal with IVS movement since 1999.