This project is part of the SCI North South Programmes. Volunteers should be 20 years old, have previous volunteering experience and take part in the Preparation Workshops organised by their sending branch. More details from your sending branch.

Topic:
7: Children and youth
Work Types:
Work with children
Free places for Females:
6
Free places last update:
02 Nov 2018
International age:
18 - 99
Extra fee to be paid in the hosting country:
180.00 Euro
Purpose of extra costs:
The cost will cover the accomodation, Food, Material of the project, IIWC-Tshirt and Certificate of participation.
Required Language:
English
Child friendly camp
Yes (Minimum age: 0)
Motivation letter:
This camp requires an additional motivation letter to explain in more detail why you would like to attend.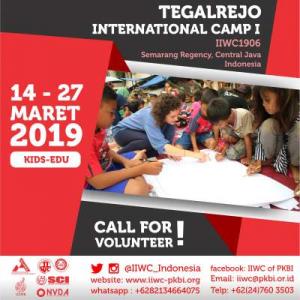 Description: Background: This project was Initiated since 2006 by cooperation with NOVIB IDO which concerned in the prevention of STI and HIV/AIDS in Tegalrejo and Sukosari the two prostitution areas in Semarang uptown. After this pilot project, this project turns to focus more on the education especially highlighting the mental side of the children in the prostitution. This is due to the lack of concern on this issue from all stakeholders in Tegalrejo prostitution area while IIWC found out that there is big chance for IIWC to address the children issue. Project: Tegalrejo project at moment is the follow up of workcamps that regularly organized between IIWC and NICE Japan by setting up a shelter. This shelter is used for children to learn their school subject and to gain soft skills such as handicraft.
Type of Work: Work: main work is running daily teaching activities in shelter (language classes, handicraft, arts, dance, etc) , promote shelter to be recognized by local youth ( youth club, high schools, or university) in order to get local volunteer that could help for daily teaching in shelter and activity with local people.
Accommodation: Tegalrejo IIWC House family (minimum standard Javanese rent house); sleeping bag and mattress needed, self cooking
Language: English
Approximate Location: Tegalrejo sub-village, Jatijajar village, Semarang, Central Java Indonesia
Organization Description: IIWC (Indonesian International Work Camp) is one of PKBI (Eng: Indonesia Planned Parenthood Association) program who deal with IVS movement since 1999.