Mangkang Mangrove Camp II
This project is part of the SCI North South Programmes. Volunteers should be 20 years old, have previous volunteering experience and take part in the Preparation Workshops organised by their sending branch. More details from your sending branch.

Camp code:
ID-PKB 10.1910
Topic:
10: Environment protection
Free places for Females:
5
Free places last update:
08 Jul 2019
International age:
18 - 99
Extra fee to be paid in the hosting country:
180.00 Euro
Breakdown:
Accommodation and food: 0.00 Euro
Transportation: 0.00 Euro
Activities: 0.00 Euro
Hosting organisation support: 180 Euro
Purpose of extra costs:
The cost will cover the accomodation, Food, Material of the project, IIWC-Tshirt and Certificate of participation.
Required Language:
English
Motivation letter:
This camp requires an additional motivation letter to explain in more detail why you would like to attend.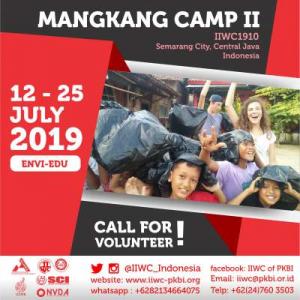 Description: Mangkang is a fisher and farmer village located in west Semarang. This project has become annually and continuously project organized by IIWC in answering the needs of preserving the coastal side of North Java Sea in Mangkang. About 1,1 km costal line in Mangkang area is now in danger due to the abrasion of the sea, cutting mangrove by local people and heavy force from the river flows. Before, many kinds of fish and shrimps are living there, but now since the condition of the mangrove forest is getting worse, it is quite difficult to find the species anymore. Fisherman also needs to go further to the ocean to fish and it means much work they need to do to earn money. Mangkang is the project site for IIWC World Tanabata Action of CCIVS UNESCO and Climate4Peace of SCI International.
Type of Work: Work: Planting mangrove and other trees in beach, environment education garbage management discussion to local people and local children, some physical activity to support garbage management program in this are, school visits for environment education, green campaign in city centre, and manage the mangrove fruits to be snacks or foods and promote it. A testimony of previous volunteer from Lithuania http://volunteersways.blogspot.ch/
Accommodation: IIWC Volunteer house, sleeping bag is needed, self cooking, and self management.
Language: English
Approximate Location: Mangunharjo Village, Mangkang, Semarang Central Java Indonesia.
Organization Description: IIWC (Indonesian International Work Camp) is one of PKBI (Eng: Indonesia Planned Parenthood Association) program who deal with IVS movement since 1999.