Play-Activity-Area (Rikon im Tösstal ZH)
Topic:
7: Children and youth
Work Types:
Construction / Restoration, renovation / Social
Number of places still available:
1
Free places last update:
15 Jul 2019
International age:
18 - 99
Extra fee to be paid in the hosting country:
0.00
Required Language:
English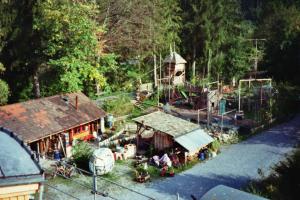 Description: A small playground with some big ideas is waiting for you at this workcamp in the beautiful Töss (Toess) Valley! It is right on the banks of the river on the grounds of a former spinning mill complex. There is a wide variety of activities organized such as project weeks with local primary schools ; a weekend kiosque for families, hikers and bicyclists ; cultural events such as concerts, plays, and open air movies. The basis for the handicraft play area is an old woodshed. One part of the shed is a publicly accessible work shop and the other part is a kiosque and bar.
Type of Work: The project with SCI entails removing the roof from the shed, replacing the beams and then reroofing the building. There are also ideas bouncing about to build some new play equipment and to do different kinds of maintenance work. The work consists of skilled manual work. As skilled workers will be instructing the volunteers about how to carry out the tasks, there are no requirements of prior knowledge for the work.
Accommodation: There are some double guest rooms, circus wagons and tents. There are toilets, showers and a washing machine for use by the volunteers. Free wifi is available. Food and beverages will be supplied - you are welcome to help.
Language: Local language is Swiss German (dialect).
Organization Description: SCI Switzerland is a non-profit-organisation which stands for intercultural exchange, sustainable development and non-violent conflict resolution. It is certified with the Intermundo-SQS-label, which guarantees high quality standards in youth exchange. SCI Switzerland has been organizing workcamps and long-term exchanges for volunteers worldwide since 1920. Each year, more than 100 volunteers from Switzerland engage in SCI projects abroad, while around 200 international volunteers work in projects in Switzerland. Swiss workcamps have a main focus on the work and exchange with children and youth living in asylum-seeking centres as well as environmental protection. In that line SCI Switzerland promotes a more environmental-friendly lifestyle in accordance with the goals of sustainable development. Therefore volunteers are expected to be aware of their environmental impact and encouraged to choose more eco-friendly means of transport. Please also check transportation costs within Switzerland before applying for our camps as this is expensive. Enter the place (to be found in the camp title) in the railway website www.sbb.ch. A participation in the camp from the first until the last day is needed for reason of instruction and group dynamic.