SAVWA Orphan Care Support Programme
This project is part of the SCI North South Programmes. Volunteers should be 20 years old, have previous volunteering experience and take part in the Preparation Workshops organised by their sending branch. More details from your sending branch.

Topic:
13: Community life
Work Types:
Teaching / Work with children / Social
Number of places still available:
3
Free places last update:
09 Dec 2018
International age:
18 - 99
Extra fee to be paid in the hosting country:
220.00 Euro
Purpose of extra costs:
The work camp participation fee is strictly Euro 220 and this covers simple accommodation, food and project expenses during the camp. Please note that this does not include travel expenses. The fee should be paid by cash on site when the camp starts.
Required Language:
English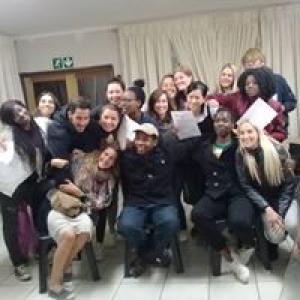 Description: Just as soon as you think you've seen the worst of cases, you come across yet another one. Abusers don't discriminate against colour, creed or age. Child Abuse is rife in South Africa and unfortunately not nearly enough is being done to protect the future of our country, the children. Government is shirking their responsibility when it comes to providing for destitute families therefore making it increasingly difficult for the poorest of the poor to survive. Abuse & Poverty are the main contributing factors to street children and abandoned baby statistics in our country. A good-hearted woman resident in Atteridgeville, Pretoria realizing the urgent need for caring for the children in the area with no other place to go has established this home.
Type of Work: Providing support and care to orphans and improving their emotional situations and their level of acceptance with daily routines at an orphanage home called Kingdom Life Children's Centre. Working days are from Tuesday – Saturday. Volunteers shall work 5-7 hours per day. Working hours are 6:00-9:00 and 15:00-19:00 on weekdays and 8:00-19:00 (with smaller shifts, depending on the activities) on Saturdays. Sundays – Mondays are meant to be free, as well as between 9:00-15:00 on weekdays. Participants: Volunteers An international work camps consists of volunteers from different races, nationalities and other backgrounds although local volunteers are usually in the majority; the latter are made up of two groups namely SAVWA members and local community members.
Study Theme: 1., Providing training in the below topics (1 time, 1 hour each)  Extra English classes - Practice of writing and learning expressions with the help of funny games  Orientation program (via games which requires the involvement of the children) o Presenting different careers – professionals in practice (e.g. teacher, manager, engineer) o Different types of higher educations – available options, what to study, where  How to spend your freetime in a useful way o Presenting different types of hobbies, arts
Accommodation: Accommodation and food:
Accommodation will be in rooms at Kingdom Life Center. Participants will be required to bring their own sleeping bags. The accommodation has a simple bathroom with shower and there is running water. The accommodation and work place have flushing toilets and do have electricity. Meals should be prepared by the volunteers for themselves (breakfast, lunch and sometimes dinner as well) – based on available ingredients. If participants want they can keep some pocket money for personal purchase of items at nearby community shops.
Language: The community has multi-cultural people and English is mostly spoken with local languages such as Sotho, Zulu, and Tshwana to name a few.
Requirements: Warm clothes, Sleeping bag, sun cream, mosquito spray/lotion, sandals, working gloves and closed shoes are advisable. Rain coat, light working clothes during working hours and warm clothes at night, as it may turn out to be chilly; Torch or flash light. Do not bring jewellery or items of personal value please.
Notes: Our workcamps are totally based on self-organisation. Self-organisation is a process where volunteers and camp coordinators create together a structure for their daily camp-life. There is no central authority to make decisions for the group, so your camp coordinators will only support this process, but they will also be part of your normal group life in which everyone has to take over some responsibilities. Please do not expect that the camp coordinators will organise everything for the group. All participants decide and act together in a responsible way, so that everybody can enjoy the workcamp. All our workcamps are run according to the principles of: • communal living, • group decision making, • equal participation and collective problem solving.