Chestnut forest & alpine agriculture (Vezio TI)
Topic:
10: Environment protection
Work Types:
Agriculture / Environment / Manual
Number of places still available:
0
Free places last update:
15 Jul 2019
International age:
18 - 99
Extra fee to be paid in the hosting country:
0.00
Required Language:
English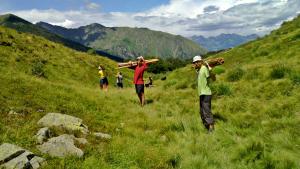 Description: The project "Alma" is situated in Alto Malcantone, a Southern Swiss Alps Municipality with 5 small villages in which 1400 people are living all year long. The farm works mainly with Scottish highland cows. During summer, the main work is taking place in the mountains and forest: collect old trees, clean chestnut forest and pasturages, ameliorate the roads, reconstruct the fountains and fix broken fences. The work is hard and living conditions are simple. The public benefits of the project consist in the preservation of the landscape through agricultural activity and production of high quality natural food. // As this project takes place at the periphery of the country and Swiss trains are really expensive please check local transport prices before applying under www.sbb.ch.
Type of Work: Collect wood (old fallen trees), clean the chestnut forest and the pasturages, ameliorate paths and fix broken fences. Specific work tasks depend on the weather and other circumstances. In the beginning of each day, you'll receive more details, where and how you can help. Pay attention when lifting heavy things to your back and always protect your fingers!
Accommodation: Mainly in a civil protection dormitory (sometimes in alpine barns). In the dormitories, there are beds with mattresses, shower, kitchen and you need a sleeping bag only. The project partner will do the shopping and you'll cook with the provided products. On the alp (accommodation for 1 night in an alpine hut) you have to bring a small mattress and a sleeping bag in a mountain backpack.
Language: The workcamp language is English. Languages that can be spoken as well, but are not required are Italian, German and French. The local language is Italian.
Requirements: Work is physically demanding and lasting 6-7 hours a day. If possible, please choose environmentally friendly transportation like train or bus.
Organization Description: SCI Switzerland is a non-profit-organisation which stands for intercultural exchange, sustainable development and non-violent conflict resolution. It is certified with the Intermundo-SQS-label, which guarantees high quality standards in youth exchange. SCI Switzerland has been organizing workcamps and long-term exchanges for volunteers worldwide since 1920. Each year, more than 100 volunteers from Switzerland engage in SCI projects abroad, while around 200 international volunteers work in projects in Switzerland. Swiss workcamps have a main focus on the work and exchange with children and youth living in asylum-seeking centres as well as environmental protection. In that line SCI Switzerland promotes a more environmental-friendly lifestyle in accordance with the goals of sustainable development. Therefore volunteers are expected to be aware of their environmental impact and encouraged to choose more eco-friendly means of transport. Please also check transportation costs within Switzerland before applying for our camps as this is expensive. Enter the place (to be found in the camp title) in the railway website www.sbb.ch. A participation in the camp from the first until the last day is needed for reason of instruction and group dynamic.