Circus and street art festival "plusQ'île" (Biel/Bienne BE)
Topic:
12: Art, culture and local history
Work Types:
Festival / Cultural heritage / Social
Number of places still available:
2
Free places last update:
05 Jun 2019
International age:
18 - 99
Extra fee to be paid in the hosting country:
0.00
Child friendly camp
Yes (Minimum age: 0)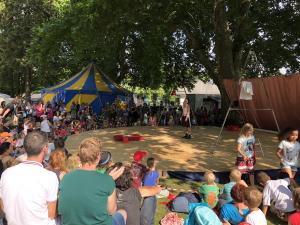 Description: plusQ'île" is a street art and street circus festival that has taken place on the lakeshore of the city of Biel since 2016. It started off 2009 on almost an island – a "presqu'île" in French. In its edition this year, it is expected to present to an ever-larger audience – families and passers-by – acts that take place both under tent tarps and in the open air. The festival has a festive and warm atmosphere, with a programme that offers something for everyone. In order to help protect the environment, exclusively vegetarian food stands serve dishes from all over the world. And at the bar, regional products find happy customers.
Type of Work: - Setting up / taking down infrastructure (tents, circus tents, bar, wheelchair ramps)
Helping out in the kitchen, potentially at the bar
Waste management
Cleaning
Proactive exchange in group of international volunteers and with locals.
Accommodation: An underground group dormitory is provided (civic protection shelter) 1.5 km from the festival site. Mattresses & pillows with pillow cases are provided but no blankets. Please bring your own sleeping bag. There is no access to internet and there is no washing machine. Meals are provided.
Language: Required languages: English and / or German and / or French
Other languages spoken in the project: French, German & Italian
Notes: The aim of the festival is to invite a large audience to discover art and culture. In accordance with this philosophy, we don't charge an entrance fee, so that the festival is truly open to all. The artists are paid by money collected during the act. The festival does not aim to generate a profit, but pursues social and cultural objectives. Each year, professional artists as well as artists from circus schools participate in the programme, so that both amateurs and professionals contribute.
It is possible to attend the workcamp with children, but the parents have to be responsible for their children. Be aware that the work at the festival can be very exhausting, intense and longer, than in usual workcamps, but at the same time it is also a very rewarding experience.
Organization Description: SCI Switzerland is a non-profit-organisation which stands for intercultural exchange, sustainable development and non-violent conflict resolution. It is certified with the Intermundo-SQS-label, which guarantees high quality standards in youth exchange. SCI Switzerland has been organizing workcamps and long-term exchanges for volunteers worldwide since 1920. Each year, more than 100 volunteers from Switzerland engage in SCI projects abroad, while around 200 international volunteers work in projects in Switzerland. Swiss workcamps have a main focus on the work and exchange with children and youth living in asylum-seeking centres as well as environmental protection. In that line SCI Switzerland promotes a more environmental-friendly lifestyle in accordance with the goals of sustainable development. Therefore volunteers are expected to be aware of their environmental impact and encouraged to choose more eco-friendly means of transport. Please also check transportation costs within Switzerland before applying for our camps as this is expensive. Enter the place (to be found in the camp title) in the railway website www.sbb.ch. A participation in the camp from the first until the last day is needed for reason of instruction and group dynamic.