Peace Camp: Women Rights Issues
This project is part of the SCI North South Programmes. Volunteers should be 20 years old, have previous volunteering experience and take part in the Preparation Workshops organised by their sending branch. More details from your sending branch.

Topic:
6: Gender equality and sexuality
Free places for Females:
3
Free places last update:
10 May 2019
International age:
18 - 99
Extra fee to be paid in the hosting country:
3700000.00 Indonesian Rupiah
Required Language:
English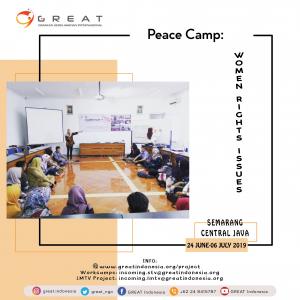 Description: Peace education is always relevant to any time of the year and can be refelcted to any topic in our lives. This year is the second year GREAT organize an international worcamp dedicated to spread the message of peace using different perspectives that is important for everyone especially young people. Working together with one of our long term local partners that mostly work with our LMTVs, LRC-KJHAM, who has been working for women rights issue in Indonesia. This year we will address the issue in an international workcamp scheme in order to increase the awareness of the issue in local youth in Indonesia.
Type of Work: • Volunteers will live in with local communities' struggling with gender based discrimination in local level. During live in, volunteers will be distributed into small groups of 2 -3 persons to live with host families. • Discuss about peace and how peace education should be communicated for youth. • Volunteers will create workshops to promote peace using non formal learning & participative methods and share it with students of local university.
• Volunteers will make writing/ visual captures of living in peace in doversty using their experiences living with local communities.
Study Theme: Education
Accommodation: (1) In Volunteers House Semarang during study part and reflection part. (2) Living with Host families during live in part, meals are self cooking together with host families. No bed. Need sleeping bag. Sharing bathroom.
Language: English with other volunteers. Bahasa Indonesia and Javanese language with locals.
Requirements: • Strong motivation and interest in non formal learning. • Interested in gender issue and peace • Familiar with article writing, short video making and social media
Approximate Location: Semarang City, Central Java, Indonesia https://goo.gl/maps/7TWXVYrQfxq
Notes: Weather can be up to 40 degree Celsius with 80% humidity. Less hygiene condition.