This project is part of the SCI North South Programmes. Volunteers should be 20 years old, have previous volunteering experience and take part in the Preparation Workshops organised by their sending branch. More details from your sending branch.

Topic:
12: Art, culture and local history
Work Types:
Art / Cultural heritage / Social
Free places for Females:
4
Free places last update:
12 Jun 2019
International age:
18 - 99
Extra fee to be paid in the hosting country:
3700000.00 Indonesian Rupiah
Required Language:
English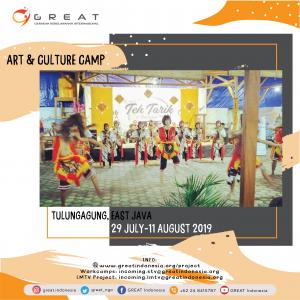 Description: Tulungagung is a small town located in the south part of east Java province in Indonesia. This will be the first time GREAT collaborates with the local artists and activists for an art and culture international workcamp. The strong motivation of the three communities to engage with international volunteers has been visible especially since 2017 when GREAT started to send Japanese volunteer to their art annual events. This volunteer who was MTV in Indonesia doing service for other project of GREAT in 2018, did a few days visit and have become an incpiration to further collaborate in IVS international workcamp 2019 and to host more volunteers who are passionate in art and traditional culture preservation.
Type of Work: 1. To be introduced to and to learn about:  Reog Ponorogo dance and the making of its costumes and masks  Angklung music instrument and how to make it  Shadow puppets  Traditional rituals of old hinduism tradition as part of local cultures in Tulungagung town  And other local heritage from Tulungagung that has been getting extinct in the modern era
To share now how to play music intruments from between locals and foreigner volunteers
To organize a collaborative art and cultural show with volunteers as part of the performers with locals.
Study Theme: Art, Culture, Social
Accommodation: House of local people. Volunteers will share together sleeping space separately between females and males. No bed. Need sleeping bag. Sharing bathroom. Self cooking by the volunteers. Volunteers will make common rules & daily teams for their collective living group. Water is limited in August – Sept in Tulungagung, be ready for lack of running water.
Language: English with other volunteers. Bahasa Indonesia and Javanese language with locals.
Requirements: Strong motivation and interest in art, dance, tradition, and heritage Be willing to perform collaborative art & culture performance with local people
Approximate Location: Tulungagung town, East Java, Indonesia. Beautiful south Java coastal beaches.
Notes: Weather can be up to 40 degree Celsius with 80% humidity. Less hygiene condition.