This project is part of the SCI North South Programmes. Volunteers should be 20 years old, have previous volunteering experience and take part in the Preparation Workshops organised by their sending branch. More details from your sending branch.

Topic:
9: People with disabilities
Work Types:
Work with people with disabilities / Social
Free places for Females:
4
Free places last update:
10 May 2019
International age:
18 - 99
Extra fee to be paid in the hosting country:
3700000.00 Indonesian Rupiah
Required Language:
English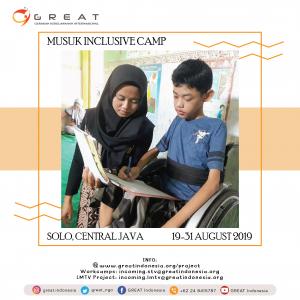 Description: This is the first IVS project for PAUD Inklusi Tersenyum (Inclusive Pre School "Tersenyum) who provides space of interaction, education and social integration for children with disabilities (difabilities) and non difable in Boyolali near Solo, the city of culture in Central Java. With the same spirit between GREAT and the difable community founded by Ms. Titik Isnani, the anyone can be the agent of change toward world peace in any aspect of humanity, GREAT local volunteers has been making school visits monthly and did one mini workcamp in 2018 to get to know and experience deeper the people and the issue try to be promoted by the local community.
Type of Work: • Volunteers will live in with local communities • Support Pre School with creating inclusive non formal educative activities • Join social activties and traditions in local level
Study Theme: Disability, Education, Social
Accommodation: In local people's house. Meals are mostly cook by the volunteers group themselves in turn. There will be daily life teams: cooking team, cleaning team, washing dishes team.
Language: English with other volunteers. Bahasa Indonesia and Javanese language with locals.
Requirements: • Strong motivation and interest in non formal learning. • Interested in difable rights issue. • Preference: experience in volenteering / working with difables.
Approximate Location: Solo City, Central Java, Indonesia https://goo.gl/bha96c//
Notes: Weather can be up to 40 degree Celsius with 80% humidity. Less hygiene condition.