Citarum River Conservation
This project is part of the SCI North South Programmes. Volunteers should be 20 years old, have previous volunteering experience and take part in the Preparation Workshops organised by their sending branch. More details from your sending branch.

Topic:
10: Environment protection
Work Types:
Environment / Social
Free places for Females:
4
Free places last update:
10 May 2019
International age:
18 - 99
Extra fee to be paid in the hosting country:
3800000.00 Indonesian Rupiah
Required Language:
English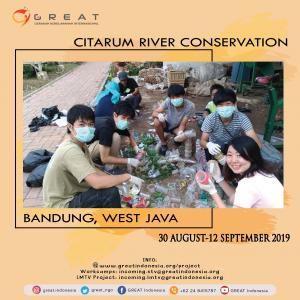 Description: Citarum is the longest river in West Java runs over 300 kilometres from the Wayang Mountain to the Java Sea. There are 30 million people rely on the water source for agriculture, water supply, fishery, industry, sewerage, electricity, etc. However, unregulated factory growth since the area's rapid industrialisation in the 1980s has choked the Citarum with both human and industrial waste. The 5 million people who lived in the river basin are directly affected. Over 200 textile factories line the river banks and contaminate the river with lead, mercury, arsenic and other toxins, changing its colour and lending the area an acrid odour. Moreover, the river is also polluted and filed with trash such plastic, styrofoam, even dead animals.
Type of Work: There are two activities; Physical Work (Picking up garbage from Citarum river and Saguling basin, doing garbage management, planting trees, making organic fertilizer, gardening, and making handy craft) and Non-physical Work (Conducting language class, mentoring green school project, taking part in culture class, doing school visits, organizing an environment educational workshop or socialization, creating art activities and promoting mini library)
Study Theme: Environment, Education, Social
Accommodation: House of local people. Volunteers will share together sleeping space separately between females and males. No bed. Need sleeping bag. Sharing bathroom. Self cooking by the volunteers. Volunteers will make common rules & daily teams for their collective living group.
Language: English with other volunteers. Bahasa Indonesia and Sundanese language with locals.
Requirements: Strong motivation and interest in environment conservation especially river issue
Approximate Location: Cihampelas Village, Bandung Region. Village view. https://goo.gl/maps/wKp1GaRtGeF2
Notes: Weather can be up to 40 degree Celsius with 80% humidity. Less hygiene condition.