A Better Environment for Children with Special Needs
This project is part of the SCI North South Programmes. Volunteers should be 20 years old, have previous volunteering experience and take part in the Preparation Workshops organised by their sending branch. More details from your sending branch.

Topic:
7: Children and youth
Work Types:
Art / Environment / Manual
Free places for Females:
5
Free places last update:
03 Apr 2019
International age:
18 - 99
Extra fee to be paid in the hosting country:
150.00 Euro
Required Language:
English
Child friendly camp
Yes (Minimum age: 0)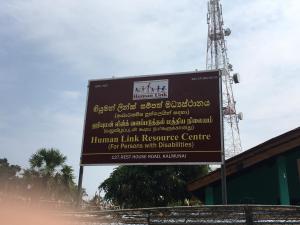 Description: The SCI Center situated in Kalmunai city was built after the 2004 tsunami in partnership with International NGO to rehabilitate affected individuals from the disaster and used as a vocational training center for many years. Now the center has been transformed to a special school collaboration with Human link local organization for education for young children with special needs. This year we SCI Sri Lanka decided to make their environment a better place to spend by repainting the walls of the school with colorful art design in terms of providing these disable students a far brighter place to study in and set-up a small play area to entertain them,also clean the beach near the school which is located 200 miles away from the sea to make the children inspired and more safer to come to school.
Type of Work: Volunteers and other local participants will be cleaning, painting walls, design and hand paint colorful wall arts on specific theme to inspire children. Arranging outdoor play area that children with special needs will adore and to encourage them play outside the class room. A beach clean-up week to create and maintain healthy environment for children.
Accommodation: Participants will stay at the Resource Centre with basic living condition and shared sleeping spaces are separated for males and females. Volunteers will sleep together on the floor mats. Water and bathing facilities are satisfactory, clothes should be hand-washed. No internet access in the centre.
Language: Sinhala, Tamil and English will be spoken among the local volunteers and the community.More or less everyone speaks English.
Requirements: Interest in coastal Environment and wall painting and wall art.
Approximate Location: Human Link Resource Centre located in Kalmunai. It is a city in the Ampara District of Eastern Province, Sri Lanka and from the total population vast majority of Muslims and Tamils living in the area. Average temperatures in Kalmunai vary very little. Considering humidity, temperatures feel hot all year The warmest time of year is generally early June then July, May where highs are regularly around 95.1°F (35.1°C) with temperatures rarely dropping below 79.7°F (26.5°C) at night.
Notes: Bring your sun protection cream and any other creams you need to protect yourself from sunburn. A hat, pair of sunglasses as well as mosquito repellent to avoid mosquito bites. Also do not forget to take some Imodium tablets (just in case you get an upset stomach)/ first aid materials, Toiletries, torch, and umbrella. A sleeping bag or a blanket will be necessary; if necessary pillows/ pillow cases to use during your stay at the campsite. Lightweight, cotton clothing is the most suitable for the climate, working clothes, gloves and shoes to work in the center and the beach. Any materials to do wall art painting, paint brushes, Musical instruments to entertain, any games to play with other volunteers.Bring information about your country/culture.