Medieval Castle of Blâmont
Topic:
12: Art, culture and local history
Work Types:
Cultural heritage / Manual / Restoration, renovation
Number of places still available:
8
Free places last update:
04 Jun 2019
International age:
18 - 99
Required Language:
English
Motivation letter:
This camp requires an additional motivation letter to explain in more detail why you would like to attend.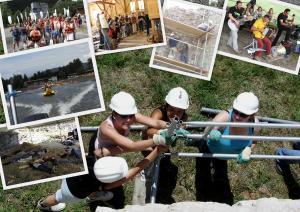 Description: The Clef de Voûte Association dedicates immense time and effort to preserving the remarkable and historical Blâmont village Castle, with its five towers, large chapel, and renowned cellar. On the second week of every month Clef de Voûte holds their annual collective workcamp for local volunteers.
Type of Work: The tasks vary day by day : volunteers may be asked to work on the castle, cleaning the site, or cutting the vegetation of the walls to conducting masonry work, restoration of the artillery terrace, or renovating the top of the donjon. Some tasks are more physically demanding, while others a more relaxed and fun. Volunteers work as a team, thus are expected to take turns ensuring everyone gets to try all the tasks, and more importantly have fun!
Study Theme: Restoring and preserving a national monument to provide the local population with access to their heritage and history.
You can see photos of previous camp here: https://www.flickr.com/photos/154450404@N06/sets/72157667604421419
Accommodation: Volunteers will be accommodated on the camping site of the village, thus are required to bring their own tent, sleeping bag, and mattress. - CAREFUL, there will be no possibility for vegan food.
Language: English can be spoken during the camp, but there will be lots of french volunteers some knowledge of French will be appreciated.
Requirements: You must bring all the camping materials (tent, mattress, pillow, sleeping bag, flashlight, earplugs, ...). Bring good shoes (security shoes at best) and clothes for all weather. BE PREPARE FOR HARD WORK UNDER THE HOT SUMMER SUN !
Approximate Location: The Workcamp will take place in the beautiful rural village of Blâmont in the east of France.
Organization Description: La branche française du mouvement, créée en 1936 et actuellement à Lille.