Topic:
12: Art, culture and local history
Work Types:
Cultural heritage / Manual / Restoration, renovation
Number of places still available:
7
Free places last update:
13 Jun 2019
International age:
18 - 99
Extra fee to be paid in the hosting country:
0.00
Required Language:
English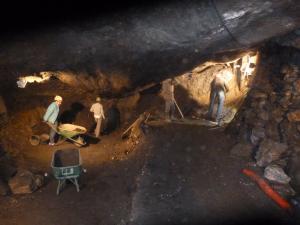 Description: The International Emergency Action Association (AUI) is organizing their annual project in the "Fournel's Silver Mines" located deep in the mountains, in the southeast of France. The project consists of hard work but in an incredible atmosphere!
Type of Work: Volunteers will work on both the underground site of the historical mines as well as overground/outdoors.
Underground: volunteers working underground will stabilize sediments, and build a wall from the alluvial deposits to prevent the risk of unclogging during a flood!
Overground: volunteers working outdoors will purge the stones that have accumulated behind the safety nets, and conduct some masonry work to stabilize the ruined walls. Some tasks are harder than others, thus the volunteers will work as a team and rotate positions to ensure everyone has the chance to experience every task.
Study Theme: The main objective is to continue the development of the Fournel mining site, namely the ruins of the 19st century settlement at the bottom of the gorges and the underground works of the galerie named "Rebaisse et Vieux Travaux". You can see this workcamp in this video : https://vimeo.com/245212544 Photos of last camp: https://www.flickr.com/photos/154450404@N06/albums/72157667587447879
Accommodation: Volunteers will be housed in two separate large tents, each equipped with 12 beds and mattresses, 2 bathrooms, and 8 showers, however, volunteers must bring a WARM sleeping bag as it can get very cold at night! THERE IS NO WIFI ON THE SITE. Volunteers won't have to cook, but will have to help with cleaning the dishes and the site.
Language: English will be the camp language but some local volunteers will speak french
Requirements: Work clothes - gloves, work shoes, sleeping bag, flash light, specialties from your area, musical instrument, good humor and bravery!
Approximate Location: Mine du Fournil d'Argentière-La-Bessée
Notes: Don't forget your swimsuit !
Organization Description: La branche française du mouvement, créée en 1936 et actuellement à Lille.