Immersion in the farming families
This project is part of the SCI North South Programmes. Volunteers should be 20 years old, have previous volunteering experience and take part in the Preparation Workshops organised by their sending branch. More details from your sending branch.

Topic:
13: Community life
Work Types:
Agriculture / Social
Free places for Males:
10
Free places for Females:
10
Free places last update:
25 Jan 2019
International age:
18 - 99
Extra fee to be paid in the hosting country:
200.00 Euro
Purpose of extra costs:
The 200€ paid by the volunteers will be used in this following way: - 2/3: organization of the workcamp (accomodation, food, water, materials, transports) - 1/3: administration fees
Required Language:
French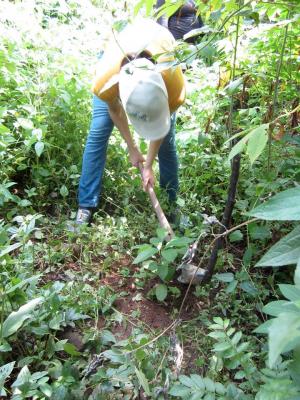 Description: This project initiated by ASTOVOT makes it possible to put volunteers in contact with the African peasant world, in particular that of Togo. It consists of helping peasant families in their fields or plantations and discovering the agricultural techniques they have developed since the time of their ancestors. Thus the volunteers will have the opportunity to immerse themselves in various facets of Togolese agriculture, namely: Seasonal crops, vegetables and vegetable crops as well as crops to be marketed (coffee, cocoa, palm oil). The maintenance of soil fertilization - The improvement of the care and feeding of livestock, mainly the development of poultry farming which is an Income Generating Activity. During their stay, they will accompany several families in their rural activities.
Type of Work: Main objective The aim is to contribute to the improvement of intercultural and peasant exchanges between different cultures.
Specific objectives
To help peasant families in their field work;
Organize exchange meetings on agricultural practices;
Immerse yourself in the Togolese tradition in families;
MAIN ACTIVITIES
The volunteers will help the families in several rural activities (plowing, weeding, gathering, reforestation, clearing, seeds ... etc.);
Organization meetings in several families to discuss the Togolese culture (talks, dances, songs, proverbs, stories ... etc.);
Meetings with farmers' groups or cooperatives to discuss greener agricultural practices;
Reforestation (several species) of the public places of the village
Accommodation: The volunteers will be housed together in the same house with several rooms (usually 2 to 4 rooms) and will live near the project site. Housing will be provided with plastic mats or straws but volunteers can however provide small inflatable mattresses or small floor mats (no bed), sleeping bag, mosquito nets etc. The kitchen will be organized by the volunteers themselves.
FOOD
Volunteers will cook and eat together their meals. In the kitchen, they will use the local products. There are many various vegetables and fruits in location, so vegetarian and vegan diets can be continued.
Language: The languages of the workcamp are English and French. But it's important to note that the exchanges in English are very basic.
Approximate Location: The village of Kuma-Apoti is one of the ten villages of Kuma Township. It is located north-west of the city of Kpalimé. Its relief consists of a vast plateau and wooded mountains. Kuma-Apoti is located in a humid zone and its climate, very particular for Togo, is much cooler and "temperate" than that of Lomé. The village economy is essentially based on agriculture, around which a few commercial, craft and tourist activities gravitate. The agricultural sector employs about 80% of the population. Productions with a low income are coffee and cocoa. Food crops provide subsistence for families.
Notes: NB: Clean drinking water available.
Internet access and electricity are limited according to the areas of intervention of the projects.
HOBBIES Apart from the activities to be carried out on the building site, you can enjoy walks, meetings with the particularly welcoming population, organize parties and excursions to visit the surrounding villages