Informatics and cinema for all children and youth
This project is part of the SCI North South Programmes. Volunteers should be 20 years old, have previous volunteering experience and take part in the Preparation Workshops organised by their sending branch. More details from your sending branch.

Topic:
7: Children and youth
Work Types:
Work with children / Social / Study, discussion, research
Free places for Females:
7
Free places last update:
16 Apr 2019
International age:
18 - 99
Extra fee to be paid in the hosting country:
200.00 Euro
Purpose of extra costs:
The 200€ paid by the volunteers will be used in this following way: - 2/3: organization of the workcamp (accomodation, food, water, materials, transports) - 1/3: administration fees
Required Language:
French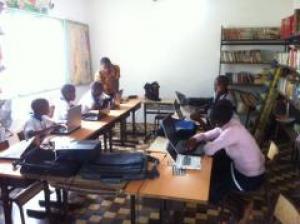 Description: Access to computer tools still very limited in schools and universities in Togo. As a result, a large majority of Togolese students do not master the use of computer tools. This becomes a real handicap in their school or university curriculum. Concerned about this, ASTOVOT sets up for the benefit of the students of Kpalimé commune basic and practical courses in computer science and Internet tools for a period of 3 weeks. The modules will revolve around: computer discovery and familiarization with a computer, connection, navigation, electronic mail, software download and text and image file transfer, discovery of social networks. In addition to classes, the project offers the opportunity to screen children's films and documentaries in the afternoons with debates and intercultural exchange.
Type of Work: MAIN ACTIVITIES
First part:
Welcome students and students interested in training + Presentation of the training program;
Implementation of the training program (Introduction, basics of computer science, computer discovery and use of Windows, keyboard learning, typing in Word and Excel, creation of e-mail account, introduction to search for information on the internet and use of social networks);
Assessment and delivery of certificates to participants
Second part:
Choice of films or documentaries;
Arrangement of the place of projection;
Preparation and installation of projection equipment
Supervision of children
Screening of the film or documentary;
Debates and intercultural activities
NB: ASTOVOT has a computer pack of over ten laptops and projectio
Study Theme: GOALS OF PROJECT
For the first part:
Learn how to use the computer and its accessories;
Discover the Internet, search engines, web browsers;
Use e-mail (sending and reading messages) and social networks;
Second part:
Make emerge an emotion from a film that challenges.
Promote debate and exchange with children to awaken their critical spirit.
Accommodation: The volunteers will be housed together in the same house with several rooms (usually 2 to 4 rooms) and will live near the project site. Housing will be provided with plastic mats or straws but volunteers can however provide small inflatable mattresses or small floor mats (no bed), sleeping bag, mosquito nets etc. The kitchen will be organized by the volunteers themselves. FOOD Volunteers will cook and eat together their meals. In the kitchen, they will use the local products. There are many various vegetables and fruits in location, so vegetarian and vegan diets can be continued.
Language: The languages of the workcamp are English and French. But it's important to note that the exchanges in English are very basic.
Approximate Location: Located 120 km north of Lomé, the town of Kpalimé is the perfect place for nature lovers and hikers who want to go to discover beautiful mountain landscapes and tropical flora. Many natural waterfalls will allow you to cool off at the edge of the water. Kpalimé is also home to the most important handicraft center in the country where a large number of artists and artisans have settled. With around 101 088 inhabitants, Kpalimé is a tourist town in the Plateaux region.
Notes: NB: Clean drinking water available. Internet access and electricity are limited according to the areas of intervention of the projects. HOBBIES Apart from the activities to be carried out on the building site, you can enjoy walks, meetings with the particularly welcoming population, organize parties and excursions to visit the surrounding villages.