Gallo-Roman Imersion in the Archeopark of "Malagne"
Country:
Belgium - French speaking
Topic:
12: Art, culture and local history
Work Types:
Archaeology / Cultural heritage
Number of places still available:
0
Free places last update:
27 Jun 2019
International age:
18 - 99
Extra fee to be paid in the hosting country:
0.00
Required Language:
English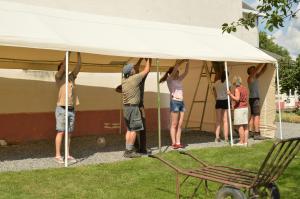 Description: The Archeopark "La Malagne" (Rochefort) is a center of interpretation of the Gallo-Roman rural civilization and a living museum for the general public. Open since 1996, the Archeopark shows a Gallo-Roman villa that was built nearly 2000 years ago, that was an ancient farm with its buildings and grounds. Malagne is a place that welcomes families and tourists and receives students throughout the year. To help to grasp archeology and understand the everyday actions of our Gallo-Roman ancestors, Malagne has developed a wide range of interactive workshops for schools: archeology workshops, Roman cooking, bread making, forging, jewelry, archery, etc. Children thus become artisans, cooks, blacksmiths ... the time of one day.
Type of Work: Malagne also organize several festive weekends including the Gallo-Roman meeting in July (13th and 14th of July ). Volunteers will participate to the preparation and arrangement of this summer Gallo-Roman party that is aimed to make people discover the expertise and Gallo-Roman crafts. This is basically to help put up and take down facilities for this event (arbors, bar, barbecue, benches and tables). In connection with this festival, volunteers also work to maintain the site and gardens (weeding, mowing, haymaking…). During the festival, volunteers who wish can give a hand to the team (bar…). In case of bad weather, inside work will be organized (maintenance historic buildings, mud construction…)
Study Theme: The study topic is big: make our heritage alive through interactive activities. Malagne organizes reconstitution of the daily activities of a farm of the first century: crops , breeding of ancient races (horses..) , handcrafts , working the soil (clay, pottery, ceramics ), iron and fire (forge..) , cooking bread in a Gallo –Roman oven , brewing ancient beer,...
Accommodation: Accommodation in a room of the center. Comfort quite basic, you'll have to bring a sleeping bag and a big mattress with you. Lavatories are close to the room but for the showers you will have to go to the sports center (+/-1 kilometer away by foot).
Language: Knowledge in French is welcome
Requirements: Work can be quite physical. Good physic conditions are required for the work and the shifting to the shower. Volunteers will have access to a kitchen to cook their own food.
Approximate Location: Rochefort is small city situated in the south of Belgium, in Namur Province. During leisure time, different activities are possible: hike in the nature, visit some caves or castles, practicing kayak, reserve game, biking, going to an outdoor swimming pool in Rochefort...
Notes: Not accessible to wheelchairs