World Music Festival Esperanzah
Country:
Belgium - French speaking
Topic:
12: Art, culture and local history
Special Topics:
Climate for Peace Programme:
Work Types:
Festival / Manual
Number of places still available:
1
Free places last update:
24 Jul 2019
International age:
18 - 99
Extra fee to be paid in the hosting country:
0.00
Required Language:
English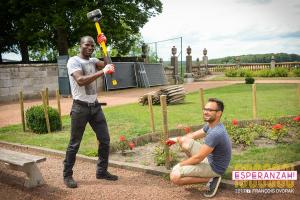 Description: "Esperanzah" is a world music festival whose aim is to encourage open-mindedness, exchanges, and cultural meeting. Each year the event brings together for 3 days musicians from all over the world and many associations working for a fairer and better world. Through music and party, the whole event promotes human, environmental and pacifist values.
Type of Work: Together with local volunteers, international volunteers will help to set up and take down the festival facilities (tents, fences, scenery, stages…). They might make some of the decoration elements (painting, drawing…). During the festival, volunteers will be free to attend the concerts. We ask the whole group to take time, at the beginning of the festival, to pass by the different associations working on the festival to learn about the different alternatives proposed.
Study Theme: Right to food, sustainable living, dreaming another world, gender equality.
Accommodation: Volunteers will sleep in groups in one of the premises of the Abbey.
Language: English
Requirements: Show a sense of initiative, be creative and open to meet people. Work can be heavy and quite physical.
Approximate Location: The festival will take place in the beautiful Abbey of Floreffe, close to Namur (in the South of Belgium)
Notes: Not accessible to wheelchairs.