Roll Up Your Sleeves – Save the Landscape (Austria and Germany)
Topic:
10: Environment protection
Work Types:
Environment / Manual / Study, discussion, research
Number of places still available:
0
Free places last update:
11 Jul 2019
International age:
18 - 99
Required Language:
English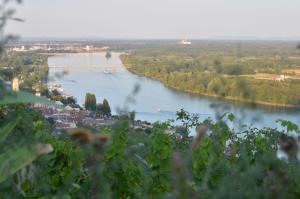 Description: This special international Workcamp will be held together with the associations "World Heritage Communities Wachau" Wachau and the association "Welterbe Oberes Mittelrheintal" and will take place for one week in Austria / Wachau (18.-24-8.) and for another week in Germany / St. Goarshausen. (24-31.08) The focus of the Workcamp lies on the preservation and conservation of the unique cultural landscapes of these two regions. Together with winemakers, biotope keepers and landscape conservationists, you will do work such as mowing and clearing out shrubs on steep slopes. Dry stone walls are part of the landscape in both areas and will be renewed under expert guidance. During leisure time, you should discover the enchanting landscapes with their vineyards, castles, palaces and medieval towns.
Type of Work: Preservation of cultural landscapes, e.g. by mowing and raking meadows, restoration and renovation of natural stone drywall or work in the vicinity of castles and monuments. There will be a video documentation of the camp.
Study Theme: Biotope care and landscape conservation, UNESCO world heritage, steep slope viticulture, dry stone wall construction, comparison of landscape and culture in Austria and Germany.
Accommodation: In Austria: Accommodation in the local guesthouse Gasthof zur Wachau (2- to 4-bed rooms with shower and toilet). In Germany: Accommodation in the youth education center Trechtingshausen Meals: one week you will be provided with all meals (in Austria) the other week you will cook in the group (in Germany).
Requirements: Interest in nature, monument and landscape protection, viticulture, the UNESCO World Heritage, development of cultural landscapes. Ability to do physical work. Working with simple power tools (e.g. bush cutters) is possible, but not essential. An interest in digital and social media is an asset.
Approximate Location: Wachau/ St. Goarshausen (Austria/ Lower Austria and Germany/ Upper Middle Rhine Valley)
Notes: It is essential to bring with you high-top work shoes with tread or hiking boots (work on slopes) as well as sturdy work clothes! The work assignments can exceed 5-6 hours on several days, but there will be leisure compensation. There is also a possibility of excursions to the sights in the Wachau (e.g. guided tours in the cities of Krems and Melk, visiting a wine tavern, ruins, bathing in the Danube, …) and in the Upper Middle Rhine Valley (e.g. Koblenz, castles and ruins, visiting a winery and tasting some wine, ship cruise on the Rhine, …).
Attractions in the Upper Middle Rhine Valley: E.g. Koblenz, castles and palaces, visit to a winery with wine tasting, boat trips on the Rhine river. Further information: http://www.welterbe-atlas.de/, http://sankt-goarshausen.welterbe-mittelrhein
Organization Description: This workcamp is organized by the German branch of Service Civil International (SCI). SCI Germany was founded in 1946 and is approved as a non-profit organisation. We are one of the oldest peace and volunteer organisations. SCI Germany aims to promote peace, non-violence, international solidarity, social justice, sustainable development and cross-cultural exchange through international voluntary work. We cooperate with a network of branches and partners in more than 90 countries. Every year, SCI Germany organizes about 50 international workcamps in Germany.