Movie in the Countryside (Arnsdorf near Görlitz)
Topic:
12: Art, culture and local history
Work Types:
Art / Manual / Study, discussion, research
Number of places still available:
2
Free places last update:
16 Jul 2019
International age:
18 - 99
Required Language:
English
Spoken Language:
English, German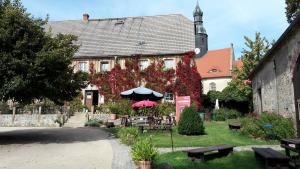 Description: Do you want to get in touch with pilgrims, enjoy cinema and do manual work? Than this Workcamp was made for you! Arnsdorf is a small village, but there is a lot going on here: 1,500 people visit the countryside cinema every summer in which miscellaneous films have been screened for 20 years. In the lovingly designed pilgrims' hostel next to the cinema, up to 350 pilgrims per year hiking the ecumenical pilgrimage to Spain, Sanitiago de Compostela, and are warmly welcomed to the village. Both are self-organized by the residents, the Protestant church, the Association for Church Construction and Village History and they provide a wonderful communication site for everyone. Experience the tranquility of the countryside and support the village with its innovative ideas.
Type of Work: Construction and install new direction signs at the pilgrims path (physical work). Support during the preparation and implementation of the movie-nights (assembly, decoration, food preparation, catering, dismantling). Green area maintenance around the landmarked 'Dreiseiten-Hof' with the cinema, the pilgrims' hostel and the rectory. Creation of your own video about the work camp and the experience in the village, which can be screened at the Landkino.
Study Theme: Learn more about the idea of a pilgrim, country cinema, the life in a rural region and the ecumenical pilgrimage.
Accommodation: In the cozy equipped barn in beds or on mattresses, sanitary facilities, shower and toilet Cooking together in the barn kitchen, on some days you will be served lunch by the project partner, on the movie evenings you can enjoy the culinary specialties served during the movie nights.
Requirements: Interest in physical, manual work and culture.
Approximate Location: Arnsdorf (near Görlitz).
Notes: The cinema nights will take on the weekend evenings. Local guides will show you the village and the most eastern city in Germany - Görlitz - and walk with you over bridges to the Polish part of the city. During leisure, you can also play football, volleyball and tennis on the sports ground of the village or table tennis at the vicarage, possibly undertake bicycle tours, hiking a piece of Via Regia or take a trip to Dresden.
Organization Description: This workcamp is organized by the German branch of Service Civil International (SCI). SCI Germany was founded in 1946 and is approved as a non-profit organisation. We are one of the oldest peace and volunteer organisations. SCI Germany aims to promote peace, non-violence, international solidarity, social justice, sustainable development and cross-cultural exchange through international voluntary work. We cooperate with a network of branches and partners in more than 90 countries. Every year, SCI Germany organizes about 50 international workcamps in Germany.