Permaculture / Gardening / Planting
This project is part of the SCI North South Programmes. Volunteers should be 20 years old, have previous volunteering experience and take part in the Preparation Workshops organised by their sending branch. More details from your sending branch.

Topic:
10: Environment protection
Work Types:
Environment / Cultural heritage / Peace
Free places for Females:
8
Free places last update:
05 Feb 2019
International age:
18 - 99
Extra fee to be paid in the hosting country:
250.00 Euro
Purpose of extra costs:
Preparations, Feeding, Accommodation, On-arrival orientation, Evaluations, Mobility to the Camp site and maintenance of volunteers in the project
Required Language:
English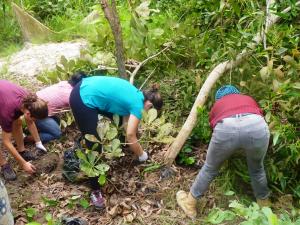 Description: The Forest Garden (Environmental Education Centre) project offer permaculture, environmental education and sustainability topics to the youngsters in the community. Our workcamp project will consider practical and theoretical learning about environmental issues among local volunteers and youngsters in the local community. It offers the space for volunteers that want to learn about permaculture in practice, sustainability and environmental issues in Nigeria, and making handcraft products from waste materials.
Type of Work: During the workcamp volunteers will support on-going efforts at the permaculture forest garden project by engaging in hands on activities like renovating structures, gardening, and organic farming. Volunteers will have the space to learn and share about environmental topics and practical within the workshops, and develop activities to raise awareness among youngsters about environmental issues.
Study Theme: Permaculture Forest Garden
Accommodation: Volunteers will stay together in the permaculture centre. The facilities within the centre are basic, with shared room, shower, and kitchen. Please bring your own sleeping bag.
Language: Fair knowledge of English
Requirements: Working clothes, tents, mosquito nets, charts / books, tools and gloves, mosquito repellant lotion, sleeping bag, spread, pillow and water purifying tablets. Games like chess, playing cards and musical instruments are welcomed.
Approximate Location: The workcamp will be held at the Permaculture Forest Garden (Environmental Education Centre) project in Badagry Lagos, which is part of the peninsular which separates the Lagoon of Lagos from the Atlantic Ocean.
Notes: The point-of-no-return, a port on the coast of the Atlantic Ocean, where slaves were shipped to the Americas during the era of slave trade, lies within trekking distance from the project centre.