Building with nature in mind
Topic:
11: Climate and sustainable lifestyle
Special Topics:
Climate for Peace Programme:
Work Types:
Construction / Manual
Free places for Females:
2
Free places last update:
29 Jul 2019
International age:
18 - 99
Extra fee to be paid in the hosting country:
0.00
Required Language:
English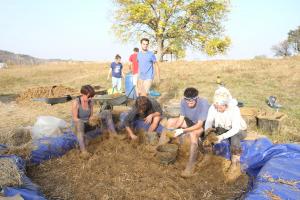 Description: Since 2017 GAIA has been working on an abandoned estate in a village of Bozevce, small and remote community in Eastern part of Kosovo. The village has around 60 inhabitants, mostly elders with rich traditional knowledge. Since it is situated in remote and hilly area, the environment is clean, peaceful and rather inspiring. The main idea is to implement permaculture design which has been developed by the group of volunteers of GAIA and to establish volunteering and educational programs. Besides, this place will provide opportunities for experimenting and exploring possibilities within permaculture way of thinking and doing. Currently there are several long-term volunteers and few GAIA staff involved in this program, as well as few animals like dogs, cats and chicken.
Type of Work: Volunteers will be working on the second floor of the house which will be used for educational events. First floor is already insulated with straw and clay and the roof has been rebuilt. We will build the walls from straw bales and protect them with mud plaster. We will be working with wood, straw, mud and water. Work will be physically demanding, but still appropriate for everyone regardless of skills. Working with mud and straw is fun and great team building activity.
Study Theme: Participants will have plenty of possibilities to learn about sustainable living, permaculture, medicinal and edible plants and nature related topics. Trough practical parts, volunteers will have chance to learn about natural laws and materials, tool handling and some basics of permaculture design. They will also learn about local traditions, handicrafts and challenges of living in a remote areas.
Accommodation: Volunteers will be staying at the property in tents. Cooking will be done together with all volunteers and food will be vegetarian and local. There is one house for long-term volunteers with basic facilities and the future educational house. Volunteers should bring their sleeping bags and sleeping mats. There are composting toilets and outdoor showers. Lifestyle is sustainable, simple and without much technology and virtual connections. Around the property there are many generous trees and places to hang a hammock!
Organization Description: GAIA, branch of SCI in Kosovo, is a peace organization working in a field of peace, understanding and solidarity between people, social justice and respect of environment. GAIA is also promoting cultural diversity and works on education and integration of marginalized and minority group in society. The main activities of GAIA are workcamps, youth exchanges, non-formal educational programs (trainings, workshops, seminars), organization of festivals, promotion of volunteering and solidarity in region of Balkans. www.gaiakosovo.wordpress.com