'imagine' - festival for diversity and against racism (Basel BS)
Topic:
12: Art, culture and local history
Work Types:
Festival / Social / Study, discussion, research
Number of places still available:
8
Free places last update:
03 Jun 2019
International age:
18 - 99
Required Language:
English
Spoken Language:
English, German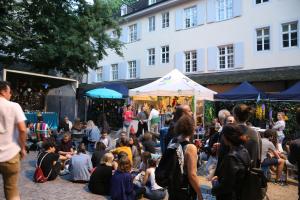 Description: 'imagine' is a project that champions diversity and stands against discrimination. Each year young people choose a topic (2019 will be about 'stereotyping and prejudice') and organize a variety of meetings, discussions and film viewings around it. All of the events are planned, organized and realized by young people. The highlight is the imagine festival which takes place in June in the heart of Basel city.
Type of Work: The main task will be setting up the whole festival's infrastructure ahead of the event and then dissembling it afterwards. This includes heavy physical work like lifting gear off the trucks – and then back up again - and setting up metal grids. Smaller work loads are hanging up nets, pitching tents and helping with the decorations. Help will also be needed backstage where helpers prepare food, keep the material in order and take care of the bands. The bands' material needs to be moved around too and food will have to be served for visitors at the grill. The jobs will be split into shifts, so there will be ample time to enjoy the festival. Since the festival takes place on the weekend, helping hands will then be needed. Therefore off-days will be taken during the week.
Study Theme: Imagine is about questioning and reducing precudice and raising people's awareness. This increases mutual respect and understanding and is a good basis for peaceful encounters. During their stay volunteers will have a discussion (about 60') on the topic.
Accommodation: You will be hosted by other young people from the project. Mattresses are provided, you ought to bring a sleeping bag though to be on the safe side. Lavatories, showers, washing machines and internet are accessible. During the festival food will be provided on site, other boarding provisions must be agreed on in advance with your hosts.
Organization Description: SCI Switzerland is a non-profit organisation which promotes intercultural exchange, sustainable development and non-violent conflict resolution. It has been organizing workcamps and long-term exchanges for volunteers worldwide since 1920. Each year more than 100 volunteers from Switzerland engage in SCI projects abroad, while around 200 international volunteers participate in projects in Switzerland. SCI Switzerland is certified by the Intermundo quality label, which guarantees high quality standards in youth exchange. Swiss workcamps are mainly focused on the work with youth as well as in the area of environmental protection. That is why among SCI Switzerland`s values is also an environmentally friendly lifestyle in accordance with the ideas of sustainable development. Volunteers are encouraged to be eco-friendly, especially when travelling to Switzerland and during the projects. Before applying be aware of high travel costs within Switzerland and check prices on the railway website www.sbb.ch. A participation in the camp from the first until the last day is needed for reason of instruction and group dynamic.