Topic:
7: Children and youth
Work Types:
Work with children / Manual
Free places for Females:
0
Free places last update:
24 May 2019
International age:
18 - 99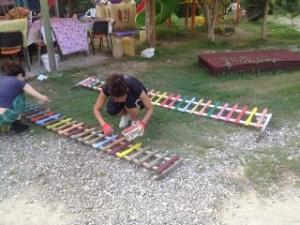 Description: The Water Lily Women Cooperative is running a kindergarten for the kids of the working mothers of Duzce city. In order to raise fund they also organize different activities related with their jobs. Producing home made food like jam, tomato sauce, powder soup and selling them, is a source of income for the cooperative.
Type of Work: W: Female volunteers needed for playing games, organizing activities, practicing English with the kids. Also some manual work for gardening and wall painting is needed. If you are talented on gardening or can play a portable instrument or teach some games / handicrafts to the kids, help to organize the year end party on 22.06, you are very welcome.
Accommodation: A: In the kindergarten. Sleeping bag and mat are not necessary. F: Will be supplied at the site.
Language: eng,tur
Requirements: Note: No alcohol is permitted during the camp at the campsite and the accommodation venue. Smoking is not allowed while volunteers are with the kids. Please be aware that this is a spesific, early dated project for female volunteers only. The places may not be filled in completely and you might be the only volunteer at the project if there is no other application. But even if you are the only volunteer you will enjoy being with the kids, playing with them and having very close contact with the locals and the staff of the cooperative who are very friendly.There is no group leader appointed by GENCTUR in this project.The staff of the cooperative will plan and distribute the daily works, to the volunteers. Even the level of communication in English will be limited, we had nice camps in the past with this community as the contact with the local and kids and the hospitality of the host is a plus.
Approximate Location: Duzce is a big city in the north-west of Turkey. Camp site is in the suburb of the city but safe and secure.