Topic:
12: Art, culture and local history
Work Types:
Environment / Festival / Manual
Number of places still available:
0
Free places last update:
01 Jul 2019
International age:
18 - 99
Extra fee to be paid in the hosting country:
0.00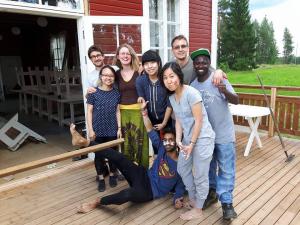 Description: Tavastkenkä is a quaint village in the north of Finland. The village association aims at developing the village, organizing events for the villagers and acting as their common voice. In addition, the organization wishes to preserve the precious and unique cultural landscape of the area with its rivers and lakes, hills and fields, forests and rapids. The aim of the camp is to clear local landscapes and traditional meadowlands of bushes and weeds and help in the organization of the village festival. The camp is expected to enhance the cultural and social integration with the village population and bring some international vibe and contacts to the local youth.
Type of Work: During the first week, the work will include clearing a thicket and reaping hay on a meadow and wetland area rented by the village association. During the second week, the volunteers will participate in decorating, building and maintaining the Village festival area together with the locals. Volunteers will also take care of their own cooking.
The surroundings offer great possibilities of enjoying the Finnish summer: different sports with the local youth, hiking, going to the sauna and swimming in the near-by lake as well as visiting a local farm.
Study Theme: The unique nature of the village as well as its history
Accommodation: In two classrooms of the old village school building. There is a kitchen as well as bathroom, shower and laundry machine in the school. There is also a wireless internet in the whole building. The building will be used by another group during the camp but there will be space for everyone!
Language: English
Requirements: No special requirements. Especially in the first week the work may be physically demanding.
Approximate Location: Tavastkenkä is located in a beautiful area in the north of Finland, around 120 km from Oulu.