Fight Inequalities With The Oxfam Trailwalker
Country:
Belgium - French speaking
Topic:
5: Poverty and social injustice
Work Types:
Peace / Social / Sport
Number of places still available:
0
Free places last update:
16 Aug 2019
International age:
18 - 99
Extra fee to be paid in the hosting country:
0.00 Euro
Required Language:
English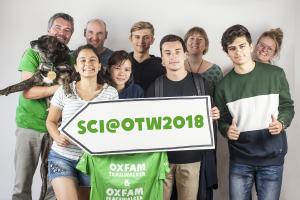 Description: Throughout the world, Oxfam is working to find concrete and innovative solutions to help people to emerge from poverty and achieve their full potential. Oxfam also advocates taking into account the voice of the poor in local and international decisions that affect them. In all its actions, Oxfam works with partner organizations and with vulnerable women and men to end the inequalities that lead to poverty.
Type of Work: Teams of 4 people will have to walk a distance of 100 km in 30 hours maximum (it's the eleventh edition). Alongside this, each team raises funds for the benefit of Oxfam-Solidarity projects around the world. The volunteers will help the Oxfam team (with 350 other volunteers) to set up facilities in order to receive walkers (1000), their supporters and other volunteers (tents, decoration of the place ...) in the best conditions. During the event, they will be dispatched in different parts of the route to support the organization (give meals and water, welcome and support the walkers, scanning ...).
Study Theme: Extreme inequalities: one out of three people in the world lives in poverty. Oxfam is determined to change this situation by mobilizing citizen power against poverty. The first day, the group will receive an awareness training to North-South inequalities and issues and will plunge into the meanders of economic globalization to understand their social and environmental impact.
Accommodation: Arrival in Oxfam office in Brussels to take part in an awareness training. Then departure to the place of the Trail in Saint Hubert in the mountainous region of the Belgian Ardennes. Basic sleeping conditions. Take your sleeping bag and mattress with you.
Language: English
Requirements: Sleeping bag and mattress. For volunteers who love nature sport challenges (even if volunteers will not walk the trail).
Approximate Location: In the very beautiful setting of Saint-Hubert in the "Ardennes", one of the most beautiful and best preserved natural regions of Belgium.
Notes: Not accessible to wheelchairs. Meals will be prepared for the group and volunteers will eat with the Oxfam team and other volunteers. A bit of context might be interesting for the camp as well: the wealth of barely 8 men is as high as that of the poorest half of the world's population. In parallel, 1 person out of 9 does not eat to its hunger. More than one billion people must survive with less than $ 1.25 a day. Oxfam wants to put an end to extreme inequalities. Better social security and health care for everyone, financed by an equitable tax system, are therefore feasible and effective solutions.