Social link and animation with L'Hopitalet - 1
Topic:
9: People with disabilities
Work Types:
Work with people with disabilities / Work with elderly people / Social
Number of places still available:
2
Free places last update:
12 Sep 2019
International age:
20 - 99
Extra fee to be paid in the hosting country:
0.00
Required Language:
French
Motivation letter:
This camp requires an additional motivation letter to explain in more detail why you would like to attend.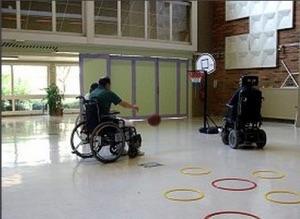 Description: The workcamp takes places in the heart of L'Hospitalet, a medical and social health centre which aims to welcome and empower individuals with physical disabilities by helping them regain or maintain an optimal level of autonomy.
Type of Work: Volunteers will be integrated into the local staff, and specifically assist with the social worker's team. Their work will mainly consist of accompanying the residents in their social life, however, volunteers will also be involved in all other social work tasks such as organizing cultural outings, evening entertainments, relaxation periods, and handicrafts.
Study Theme: The camp has a strong focus on intercultural and international solidarity thus Volunteers will be asked to conduct a presentation on their culture or country, and should bring documents, books, recipes, or other interesting artefacts of their nationality.
Accommodation: Volunteers will be housed in a individual rooms with access to a studio with a full functioning bathroom. Food is completely provided by the centre and will be taken with the residents.
Language: French is required in order to be able to communicate with the residents.
Requirements: Volunteers must be at least 20 years of age, and must submit an additional motivation letter written in French.
Approximate Location: Located in the beautiful Montoire-sur-le-Loir commune in central-western France. Please be aware that this is a small town with few shops and few things to do!
Organization Description: La branche française du mouvement, créée en 1936 et actuellement à Lille.