Topic:
7: Children and youth
Work Types:
Teaching / Work with children / Language study
Number of places still available:
1
Free places last update:
31 Jul 2019
International age:
18 - 99
Required Language:
English
Spoken Language:
English, Slovenian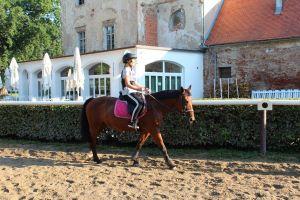 Description: Every summer RIS Dvorec Rakičan organizes English camps which are intended for children from different regions of Slovenia. This year novelty is Camp with horses. During the camp, children learn foreign languages through games, sports, music as well as art and cultural activities. Children socialize with each other, get familiar with their companions and spend the summer in the arms of nature. Activities are organized and well planned with the help of children, according to weather conditions and other organizational conditions. We are involving volunteers from all over the world, thus adding value to our project and providing intercultural learning for children and volunteers as well.
Type of Work: Volunteers will have a chance to create and lead some of the creative workshops for children. On the first day of the camp they will get the chance to present their country, their culture to the children. They will also participate in all sports and art activities (horseback riding, visiting the swimming pool, archery, preparing theater plays). Within Camp with horses volunteers will have a chance to assist in horse riding lessons and horse ground manners. A volunteer has to be qualified in this field. The volunteers will also make a kitchen service plan according to which they will help in the kitchen. They will prepare traditional dishes typical for their home country. In addition, volunteers will help with the cleaning (cleaning dishes and cleaning up in the kitchen and dining room).
Study Theme: Volunteers will expand their work experience with children, improve their leadership skills and skills of cooperation and working in group. Through the exchange of experiences with fellow volunteers, they will be able to enrich their knowledge. Volunteers will learn more about Slovenian culture and typical local food. Within the framework of workshops they will develop and strengthen their creative thinking and social skills. Our goal is to strengthen children's English language skills as well as volunteer's language skills. They will also strengthen their teaching skills related with horses.
Accommodation: Volunteers will be accommodated in double/ triple or multiple beds (with free wireless connection, TV, individual bathrooms) in a nice mansion with its own café, which is surrounded by a natural park and horse stables. The classrooms also offer computers and internet connection which can be used in their free time.
Requirements: Volunteers should have some work experience with children and with organizing a wide variety of activities (workshops, games). We also require high level English language skills (at least B2 level) during the English camp. For volunteering at Camp with horses volunteers have to be qualified in this field (horse riding, horse ground manners) and of course speak in English.
Notes: The camps are intended for all children ages from 5 to 14. Per week there is around 40 children involved in our activities. We offer 2 types of summer programmes; the weekly programme includes 24h activities (children are sleeping in the castle; around 15 children per week). The the daily programme offers activities from 8 am until 16 pm. The distance to the nearest city (Murska Sobota) is 3km.