Topic:
12: Art, culture and local history
Work Types:
Environment / Restoration, renovation
Free places for Females:
0
Free places last update:
07 Jun 2019
International age:
18 - 99
Extra fee to be paid in the hosting country: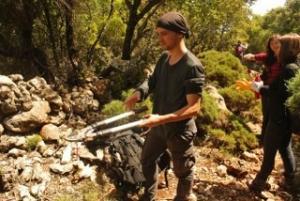 Description: A unique construction technic of the area makes Akseki world famous. Long timbers among dry stones make the houses stronger. Villages around Akseki town are full of such houses.An old caravan road ties up the villages. Joining in this camp will make you feel living in the old times.As the altitude of the location is quite high you will also watch a clear sky almost every night.
Type of Work: Volunteers will clear the scrub and bushes on paths. Waymarking, route-clearing, garbage-collection along the walking route.
Accommodation: A: In a school dormitory in the town. F: Will be supplied at the site.
Language: eng,tur
Requirements: The project will start in Istanbul with a compulsory orientation meeting that all volunteers should attend on the first day of the camp, in GHD Office at 18.00. The group will travel together to the camp site by a coach on the same evening. Therefore all volunteers should be present at the orientation meeting, otherwise you will miss the group departure and will have to make your own way to the camp site which is rather difficult. The journey to the camp site takes 12 hours and one way costs 25 Euro. The departure from the camp site is on the last day of the camp after breakfast.
Approximate Location: Akseki is a small and historical town on the Southwest of Turkey. The camp site is safe and secure.